Commenting on the recent rise in suicides in Greece due to the country's dire economic situation, a leading lawmaker of the neo-Nazi Golden Dawn party urged nationals to "kill those who are responsible for their problems" rather than result to taking their own lives.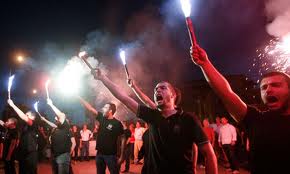 Speaking during an interview for the 'Dateline' program broadcast by the Australian network SBS, Golden Dawn party member Ilias Panagiotaros defined "those who are responsible" as bankers.
"This is tragic because Greeks were not like this. Instead of committing suicide, Greeks could have gone and killed the ones who were responsible for their problems," he told journalist Evan Williams, who informed his viewers that there have been "4,000 suicides" in Greece in the past four years.
However official figures for 2011 note that there have been 477 suicides in 2011.
When the reporter him asked in turn "Who should they kill?" the senior Golden Dawn lawmaker replied: "Bankers, of course."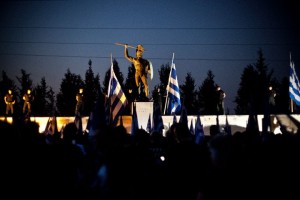 He added that Golden Dawn was determined to set up parallel government services "like the Hizbullah in Lebanon", a senior MP with the party has told Australian television.
"Golden Dawn wants to become and will become like the Hizbullah in Lebanon, which in effect is a second government which helps even its poorest citizens," Panagiotaros told SBS. "Over time, Golden Dawn will do more for our fellow citizens," he said over footage showing the party's Greeks-only food hand-out earlier this month.
Last week a Golden Dawn parliamentarian provoked controversy after shouting 'Heil Hitler' in parliament chambers, causing him to be ejected from the building.
The neo-Nazi party, which gained 7 percent of the vote in the country's June national election, has become notorious for its blatantly anti-Semitic and xenophobic beliefs, as well as its attacks on foreigners.
The Central Board of Jewish Communities in Greece (KIS) issued a statement in response to the recent incident saying, "We call upon the government and the democratic political forces to overcome their differences and shield democracy in our country with appropriate legislation, in order to ensure the equality of Greek citizens, as provided for in the Constitution of Greek Republic regardless of race color or religion, and to effectively fight against any attempt made to revive Nazism in Greece."
Source material can be found at this site.