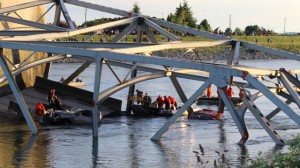 Thousands of bridges around the U.S. may be one freak accident or mistake away from collapse, even if the spans are deemed structurally sound, experts say.
Considering the high taxes in the States its a wonder where the money goes, simply put not to the infrastructure for the benefit of the citizens. Perhaps the Afghans at least have safer bridges with the $100m Obama sent to them this month.
The bridges are kept standing by engineering design, not supported with brute strength or redundant protections like their more modern counterparts. Bridge regulators call the more risky spans "fracture critical," meaning that if a single, vital component of the bridge is compromised, it can crumple.
Those vulnerable crossing carry millions of drivers every day. In Boston, a six-lane highway 1A near Logan airport includes a "fracture critical" bridge over Bennington Street. In northern Chicago, an I-90 pass that goes over Ashland Avenue is in the same category. An I-880 bridge over 5th Avenue in Oakland, Calif., is also on the list.
Also in that category is the Interstate 5 bridge over the Skagit River north of Seattle, which collapsed into the water days ago after officials say an oversized truck load clipped the steel truss.
Public officials have focused in recent years on the desperate need for money to repair thousands of bridges deemed structurally deficient, which typically means a major portion of the bridge is in poor condition or worse. But the bridge that collapsed Thursday is not in that deficient category, highlighting another major problem with the nation's infrastructure: Although it's rare, some bridges deemed to be fine structurally can still be crippled if they are struck hard enough in the wrong spot.
"It probably is a bit of a fluke in that sense," said Charles Roeder, a professor of civil and environmental engineering at the University of Washington.
While the I-5 truck's cargo suffered only minimal damage, it left chaos in its wake, with two vehicles catapulting off the edge of the broken bridge into the river below. Three people involved escaped with non-life threatening injuries.
Last August, Barry LePatner, author of "Too Big to Fall: America's Failing Infrastructure and the Way Forward," told CBS News correspondent Jeff Glor on "CBS This Morning" that the next bridge disaster was much closer than anyone wants to believe.
"Since 1989," LePatner said, "we've had nearly 600 bridge failures in this country and, while they're not widely publicized … a large number of bridges in every state are really a danger to the traveling public." CBS News