SECURE AMERICAN SOVEREIGNTY!
DEMAND IMMEDIATE ACCESS TO ALL OF RICE'S BENGHAZI EMAILS AND BLOCK U.N. NOMINATION OF SOCIALIST SAMANTHA POWER NOW!
BLAST-FAX CONGRESS TO FIGHT!
URGENT ACTION ALERT: Barack Hussein Obama's arrogance and obsession with LOYALTY in his hyper-centralized thug administration of like-minded sycophants have now put political retribution BEFORE American sovereignty with what Rush Limbaugh so astutely labeled an "f- fooled you" to each and every one of us – but we can still FIGHT!
BLAST-FAX YOUR OUTRAGE TO CONGRESS AND DEMAND ACTION
INSIST ON BOLDER BENGHAZI INVESTIGATION WITH SUPPORT FOR H.Res. 36
BLOCK SAMANTHA POWER U.N. NOMINATION NOW!
THE GOP NEEDS TO BE TAKING A HARDBALL LESSON FROM THE REAGAN ERA DEMOCRATS' PARTISAN PLAYBOOK – NOT THROWING UP THEIR HANDS IN DEFEAT AT BEING OUTMANEUVERED BY BARACK OBAMA!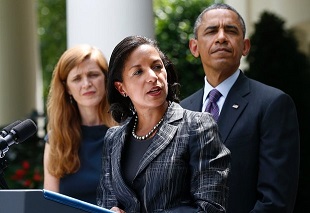 Recall what was said and done by the Democrats to National Security Advisor Bud McFarlane, and perhaps most memorably Col. Oliver "Ollie" North, during the Iran-Contra scandal when the Left shamelessly "criminalized" policy disputes between the Executive and Legislative branches by playing VERY ROUGH with felony indictments!
They also vociferously CLAIMED to be upholding the rule of law as they jealously guarded every bit of constitutional prerogative to do so!
Col. "Ollie" North became the target of the mid-eighties Democrats as a result of his participation in the Iran-Contra affair for the sale of weapons – via middlemen of course – to Iran with the profits then getting funneled through a shell organization (the "National Endowment for the Preservation of Liberty" to the Nicaraguan Contras despite the unconstitutional Bolan Amendment to the 1982 House Appropriations Bill aimed at forbidding just that – and also for altering official records to delete references to direct assistant to the Contras…
To be brief, North admitted to lying to Congress saying he believed in aiding the Contras as "freedom fighters" and that he viewed the Iran-Contra plan as a "neat idea." He was tried in 1988, indicted on sixteen felony counts and in 1989 convicted of three including AIDING AND ABETTING IN THE OBSTRUCTION OF A CONGRESSIONAL INQUIRY.
So the integrity of Congressional testimony was a BIG DEAL for Democrats back in the day… For anyone who has closely followed BENGHAZI – the alarms should be GOING OFF about both Susan Rice AND Hillary Clinton!
How can EITHER of these women be seen as fit to continue in public service after their DISHONEST and OBSTRUCTIONIST appearances before Congress?
Where are the pansy Republicans now THAT AMERICANS HAVE BEEN LEFT TO DIE IN ADVANCEMENT NOT OF U.S. POLICY, BUT OF OBAMA AND HILLARY'S VAIN POLITICAL AMBITIONS?
Susan Rice was their willing accomplice and national mouthpiece for a criminal cover up conspiracy – in advancement of HER vain political ambitions, which we now see playing out in her appointment by Obama to national security advisor…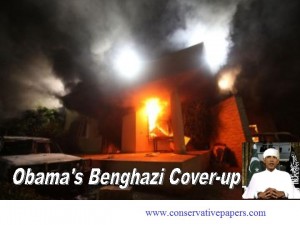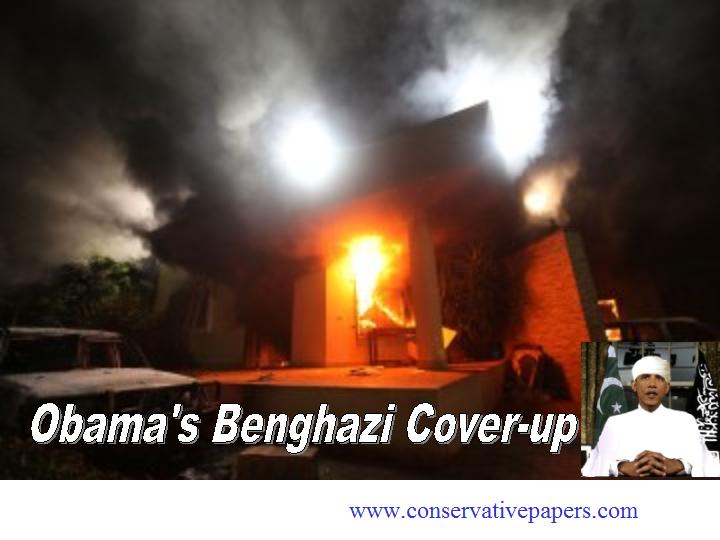 Obama, Clinton and Rice are all in on the Benghazi cover up – now Obama is just rewarding Rice's loyalty for playing along and KEEPING HER MOUTH SHUT!
On Wednesday we learned that the long-rumored PROMOTION of BENGHAZI-BIG LIAR SUSAN RICE from U.N. Ambassador to National Security Advisor was now FACT…
And then it got even worse as we learned that proven LIAR Susan Rice is to be replaced at the United Nations with notorious anti-Israel SOCIALIST Samantha Power, who puts the same radical, phony "human rights" excuses on HER HATE-OUR-ALLIES, HATE-AMERICA AGENDA as Dear Leader Barack Obama!
This at a time when REAL NATIONAL SECURITY AND SOVEREIGNTY are already on Obama's chopping block with the U.N. Arms Trade Treaty ALL SET to be SIGNED and Al Qaeda GAINING while the Middle East is in a UPROAR thanks to Barack Obama's gun-running and Islamist-pandering!
Our position in the world as a sovereign super-power is in serious JEOPARDY!
And that's not even touching on the metastasizing of Big Brother overreach and political targeting that is like a cancer eating away our freedom more reminiscent of the KGB than the DNC! This bespeaks a culture of corruption becoming more characteristic of this administration by the day!
WE CANNOT TRUST BARACK HUSSEIN OBAMA, SUSAN RICE OR SAMANTHA POWER WITH OUR RIGHTS, OUR LIBERTY OR OUR SOVEREIGNTY!
It was just months ago that Susan Rice as U.S. Ambassador to the United Nations was justly BLASTED for her Benghazi media blitz where she shoveled Americans a pre-planned LIE. We know now the "hateful video causing a riot" story was central to a deliberate STRATEGY crafted as part of an elaborate cover up of the Obama administration's foreign policy FAILURE that left four Americans dead and a still undisclosed number wounded right before the November election.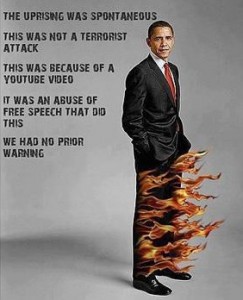 But Barack Obama is too politically calculating to persist in something so stupid as handing Hillary's job to Susan Rice as he had planned… not while America is watching and the usually flaccid Congress is actually asking some tough questions.
That's what got her big promotion as Secretary of State to replace outgoing Benghazi butcher Hillary Clinton handed to John Kerry, instead leaving her with the now open – and NO CONFIRMATION NECESSARY – inner circle position of National Security Advisor!
Yes, that's right – RICE WILL BE OBAMA'S FOREIGN POLICY CONFIDANT as it is the National Security Advisor who is in charge of turning the president's far-reaching and wide-ranging policies into reality…
Here, we naively thought the IRS persecution was as bad as it could get!
Oh the fun to come when a die-hard Obama loyalist like Susan Rice – she did take a leap of faith to abandon the Clintons BEFORE Obama won back in 2008 – takes over as National Security Advisor at a time when the Department of Homeland Security is ALREADY CALLING DISSENTERS "TERRORISTS."
Like her U.N. replacement Samantha Power (above), Susan Rice is known as a liberal interventionist when it comes to foreign policy and national security – you know, decide policy on the basis of "feelings" rather than LOGIC or FACTS – and NEVER on an articulated America-first strategy…
It was Rice who whispered some of those sweet nothings in Barack Obama's ear that had us overthrowing Libyan dictator Muammar Qaddafi WITHOUT ANY APPROVAL OR EVEN CONSULTATION WITH CONGRESS!
And Susan Rice – once put in motion – is going to be hard to check as she in all likelihood has the Benghazi "goods" on Barack Obama and Hillary Clinton!
Making matters worse still, some of her toughest (when the cameras were on) critics when it came to the Secretary of State promotion, Arizona Sen. John McCain and Kelly Ayotte have already ROLLED OVER saying they'll play nice when it comes to working with Rice as NSA!
The office of gutless wonder Lindsey Graham (R-SC) didn't even have the wherewithal to comment when asked!
THEY SHOULD BE RENEWING THEIR COMMITMENT TO THE BENGHAZI INVESTIGATION TO FIND THE EVIDENCE WE ALL KNOW IS OUT THERE – AND HOLD SUSAN RICE ACCOUNTABLE FOR HER COMPLICITY IN THE COVER-UP!
Obama is already free-falling in public opinion polls – especially among Independents – if MORE whistleblowers come forward or MORE evidence produced, Rice's lame excuses and lies are then EXPOSED  for all the world to see …
And Rice just might be forced out of office in shame…
At the same time however – HER REPLACEMENT AT THE U.N. MUST NEVER TAKE OFFICE!
To paraphrase what Rush Limbaugh said, Obama's appointments are a big 'f. you' and there isn't a whole lot we can do about it except to keep fighting back; except keep pressing when it comes to Benghazi and keep Samantha Power (who also happens to be married to Obama's former regulatory "czar" fanatical leftist Cass Sunstein) from ever taking Obama up on his loyalty reward of career advancement…

"I have no respect for these people at all. None," Rush said. "I respect the offices they hold, but to me, these people are just the epitome of danger."

He continued: "It doesn't matter who's in these positions. They're all him (Obama). Every one of them is as true a believer as Obama is, and that's why they are there. And it's been that way since he first started naming people to his regime, naming his czars. And I totally believe that these people have secret email addresses and I totally believe they're working to undermine the way this country was founded. I've no doubt in my mind that's what they're doing. They don't like it. They don't like the Constitution."

"The fact that this woman lied to the country and lied to the Republicans about Benghazi and he promotes her is exactly what he wants," Limbaugh said.

"These people are who they are. My point in all of this, there better be some stand-up push back to some of this at some point, rather than just expressing outrage."
He is exactly right.
Just as he was thwarted from signing the U.N. Arms Trade Treaty on June 3 by YOUR INCESSANT, VOCAL OPPOSITION, Chicago Barry can be deterred from making radical appointments and from winning nomination confirmations from Congress WHEN YOUR VOICE IS HEARD.
He can't take the heat… not when his popularity is sinking and he has 44 more months to go.
NOW IS THE TIME TO SHOUT AT CONGRESS AND WHITE HOUSE.
We must make it clear to Barack Hussein Obama:
We are no pushovers and neither are our allies in Congress – we will fight to see justice done in the crimes of Benghazi!  Susan Rice should be indicted for complicity in the Benghazi cover up, not promoted to National Security Advisor.
And radical leftist Samantha Power MUST NOT be confirmed as Rice's replacement at the U.N. – Israel cannot be betrayed with a pro-Palestinian U.S. Ambassador. Reject Samantha Power!
BLAST-FAX YOUR OUTRAGE TO CONGRESS AND DEMAND ACTION
SAVE AMERICAN SOVEREIGNTY FROM THE OBAMA LOYALISTS!
INSIST ON BOLDER BENGHAZI INVESTIGATION WITH SUPPORT FOR H.Res. 36
BLOCK SAMANTHA POWER U.N. NOMINATION NOW!
For America,
The Editors
American Sovereignty PAC – www.AmericanSovereigntyPAC.com