Palestinian Authority official Jibril Rajoub, who was touted last week as a "man of peace" by the leftist Meretz party, is continuing his incitement against Israel.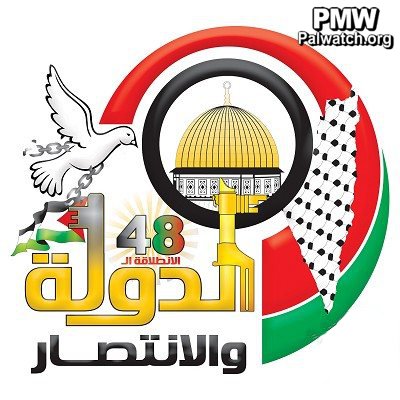 The Palestinian Media Watch (PMW) research organization exposed on Sunday yet another controversial statement by Rajoub, who this time said during an interview, which aired last week on an Arab sports television channel, that all of Israel is "occupied Palestine".
Rajoub, who headsthe PA's soccer federation, referred during the interview to an upcoming visit to Israel and the PA by the players of the FC Barcelona team. When asked by the interviewer whether the team will also visit the "occupied territories", Rajoub replied, "They are coming to occupied territories, since the whole of Palestine from the river to the sea, is occupied."
The interviewer then told Rajoub that she was referring to "Israeli-occupied lands" to which Rajoub replied, "Do you mean 1948?"
When the interviewer confirmed she indeed meant lands "occupied" in 1948, Rajoub replied, "There was a foolish Israeli attempt to do something (a sporting event) together. Of course they try to use Barcelona as a fig leaf to hide their crimes against Palestinian sports."
The latest remarks by Rajoub were exposed just three days after MK Zehava Galon, head of the extreme leftist Meretz party, blasted the Defense Ministry for preventing Rajoub's participation at her party's conference.
Rajoub had been scheduled to speak at the conference. Galon contacted Defense Minister Moshe Yaalon and asked that Rajoub be given the appropriate permit to attend, but the request was denied.
"This is an attempt to silence a person, which harms one of the most prominent proponents of peace on the other side, and it is hard to shake the feeling that the security establishment makes political decisions and not professional ones," claimed Galon.
Yaalon explained Saturday evening that he had decided to block Rajoub's entry to Israel before the Meretz party invited him to its conference.
"I decided to prevent Jibril Rajoub from entering the state of Israel, because despite the fact that in the Israeli press, he sometimes appears like an almost likeable character – in actual fact, this is a person who has been inciting in a very serious manner against the state of Israel and its citizens lately; attacking the prime minister with harsh words that cannot be repeated; and acting to delegitimize Israel in sports institutions," said Yaalon.
"I cannot accept a situation in which a person spreads words of demonization and hatred against us, like the worst of inciters, and at the same time asks to enter the state of Israel as if nothing happened. You can't grasp the stick at both ends."
PMW has in the past exposed that Rajoub denounced Jews as "Satans" and "Zionist sons of bitches" before an audience. In another PMW video, he called Israeli Prime Minister Binyamin Netanyahu a "dog."
Most recently he praised the use of violence against Israel, asserting that if the PA had a nuclear weapon, it would not hesitate to use it against the Jewish state.
Source material can be found at this site.