At least 14 people were killed and 30 wounded when a suicide car bomber struck outside the Supreme Court in the Afghan capital on Tuesday.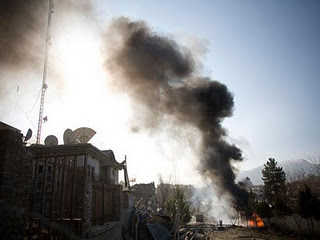 The court lies a few hundred meters (yards) from the gates of the U.S. Embassy in a central part of Kabul.
Police spokesman Hashmat Stanikzai said the bomber drove an SUV and specifically targeted buses carrying court employees.
It was the second attack in Kabul in as many days.
No one immediately claimed responsibility for Tuesday's attack but it comes as the Taliban and other terrorist entities have unleashed a wave of bombings and assassinations around the country.
Deputy police chief Dawood Amin said the top court was the target of the attack.
"There were casualties among the supreme court officials," said eyewitness Mohammad Salem.
Source material can be found at this site.