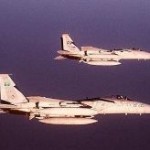 President B. Hussein Obama  announced that his administration would begin funding and arming the Syrian 'rebel' forces who have been battling Assad. Only one little problem, though…the Syrian 'rebels' are part of Al-Qaeda and Russia is well aware of this.
Russia, a veto-wielding member of the U.N. Security Council, will not permit no-fly zones to be imposed overSyria, Foreign Ministry spokesman Alexander Lukashevich said on Monday.
"I think we fundamentally will not allow this scenario,"Lukashevich told a news briefing, adding that calls for a no-fly zone showed disrespect for international law.
Lukashevich spoke before planned talks between President Vladimir Putin and U.S. President Barack Obama on the sidelines of a G8 summit in Northern Ireland which were expected to focus on the conflict in Syria that has killed at least 93,000 people.
Russia and the United States are trying to bring representatives of Syrian President Bashar al-Assad and his foes to the negotiating table, but Moscow has criticized U.S. plans to arm known terrorist forces and to consider imposing a no-fly zone.
"All these maneuvers about no-fly zones and humanitarian corridors are a direct consequence of a lack of respect for international law," Lukashevich said.
He said Russia did not want a scenario in Syria that resembled the events in Libya after the imposition of a no-fly zone which enabled NATO aircraft to help rebels overthrow Muammar Gaddafi and radicalize Libya.
Russia's President Vladimir Putin stressed at the press conference at 10 Downing Street.
"I think you will not deny that one does not really need to support the people who not only kill their enemies, but open up their bodies, eat their intestines, in front of the public and cameras," Putin said referring to a video footage on the Internet of a rebel fighter eating the heart of a government soldier. Later however it was concluded the fighter was holding a lung.
"Is it them who you want to supply with weapons?" he said adding that it does not correspond with international humanitarian norms.