Obama is launching fresh battles over climate change with plans to curb emissions using executive powers that sidestep Congress — including controversial rules to cut carbon pollution from existing power plants.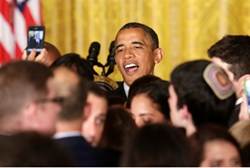 The wide-ranging plan, which Obama will tout in a speech later Tuesday, also beefs up federal efforts to help deploy low-carbon and renewable energy, and has programs to help harden communities against climate-fueled extreme weather.
Internationally, it seeks to knock down trade barriers to climate-friendly goods and services; enhance cooperation with India, China and other big carbon emitters; and curb U.S. support for overseas coal plant construction, among many other steps.
The plan is designed to get around Congress, where major climate bills have no political traction. White House spokesman Jay Carney said Monday that Obama's executive approach "reflects reality."
But the plan, especially its controversial Environmental Protection Agency power plant regulations, will nonetheless face big hurdles on and off Capitol Hill.
That's especially true when it comes to far-reaching rules to curb carbon from existing power plants, which account for around a third of U.S. greenhouse gas emissions, largely due to coal-plant emissions.
Tackling existing plants is a step the EPA has previously said it would take, but now, for the first time, the agency has open White House backing.
The EPA will propose the existing plant standards by June of next year and finalize them a year later, an administration official said.
White House officials also say the administration will float a modified proposal for new plants later this year amid delays in a draft rule unveiled in 2012.
One eventual option for opponents of the rules would be the Congressional Review Act (CRA), a mid-1990s law that allows Congress to nullify final agency regulations.
The rule has been used successfully just once: to overturn a Clinton-era ergonomics rule.
Resolutions under the CRA are immune from Senate filibuster, but it's a blunt instrument, forcing lawmakers to vote on whether they want to nullify pollution standards rather than just modify regulations.
"I think a CRA challenge will be talked about, but our track record on those has not been good. Hope does spring eternal, and maybe the White House finally has disrespected enough coal-state [Democratic] senators to force them to finally take action," said Stephen Brown, vice president for federal government affairs with the refining company Tesoro Corp.
GOP leadership aides did not detail their strategies Monday ahead of Obama's speech, but in the past, Republicans have sought to use riders on spending bills to thwart the EPA and other agencies.
Overall, one fossil fuel industry source predicted "a lot of creativity" on Capitol Hill.
Speaker John Boehner (R-Ohio) signaled his readiness for new fights last week when he told reporters that new power plant regulations would be "absolutely crazy," alleging it will cost jobs.
At the very least, Republicans will try and turn the optics of the battle in their favor.
The House will vote later this week on legislation that would open up far more offshore areas to oil and gas drilling.
"While President Obama is preparing to roll out a new ream of red tape that will make American energy more expensive and destroy jobs, the House is moving forward with its all-of-the-above energy agenda this week," Boehner's office said Monday.
Capitol Hill lawmakers will also get dragged into the fight in other ways. The National Republican Senatorial Committee (NRSC) is vowing to tether vulnerable 2014 Democrats to Obama's plan.
An NRSC spokesman alleged over the weekend that Obama's plan will "effectively crush the economy in West Virginia, Kentucky, Alaska, Arkansas, and Louisiana — not to mention plenty of other states like Michigan."
"Whether or not Mark Begich, Mark Pryor, Mary Landrieu, Kay Hagan, Gary Peters or any candidates in these states support the initiative is irrelevant — the fact is that their embrace of the Obama agenda is hurting folks back in their home states," said Brad Dayspring, the GOP group's communications director.
Other hurdles will confront administration officials, too.
Regulations are certain to draw legal challenges. And the slower-than-expected rise in global surface temperatures over the last 10-15 years is giving climate skeptics openings to challenge the need for new regulations, while creating puzzles for climate scientists studying the slowdown.
But efforts to impose tougher curbs on greenhouse gas emissions also have allies on and off Capitol Hill who can help support Obama on the science and the politics.
"We don't measure warming by whether individual years are warmer than other individual years, but by whether or not the overall decadal trend shows warming. The past decade was the warmest decade on record. By that metric, global warming proceeds unabated," said Michael Mann, a climate scientist with Pennsylvania State University.
Environmentalists say they will work to create traction and help fend off attacks on Obama's plans.
"These are common-sense rules that will help us leave a better world for our kids. We intend to be very active in defending them against interest groups who think there should be no limits at all on this kind of pollution from power plants," said Elizabeth Thompson, president of the Environmental Defense Action Fund.
The Obama administration, for its part, is pledging an inclusive process on the controversial rules for existing plants that will draw in states, industry and others.
An administration official pledged in a briefing Monday that the rules would be flexible. "That process will involve a very aggressive set of stakeholder conversations," the official said.
A few other highlights of the sweeping plan include up to $8 billion in Energy Department loan guarantees for advanced fossil energy projects, such as coal plants that trap carbon; fuel economy standards for heavy-duty trucks beyond model year 2018, when existing standards run through; and continued Interior Department efforts to permit renewable energy projects on federal lands.
The White House is also pledging to boost existing Energy Department appliance efficiency efforts.
"The Administration is setting a new goal: Efficiency standards for appliances and federal buildings set in the first and second terms combined will reduce carbon pollution by at least 3 billion metric tons cumulatively by 2030 — equivalent to nearly one-half of the carbon pollution from the entire U.S. energy sector for one year," a White House summary states.