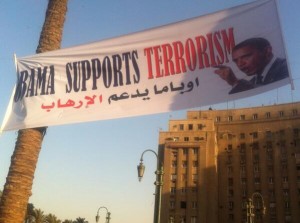 I am not sure when the people of Egypt became more worldly than the people here in America but it would seem they have it figured out.  Here is a tweeted a picture of a banner that has been hoisted in Tahrir Square that reads "Obama Supports Terrorism" in both English and Arabic. The banner has been placed in preparation for Sunday's scheduled protests against Mohamed Morsi and The Muslim Brotherhood.
Information concerning the blatantly pro-Brotherhood position of the Obama administration continues to emerge. Earlier, U.S. ambassador to Egypt Anne Patterson exposed the Obama administration's allegiance when she urged Egyptians—including the beleaguered Christian Copts—not to protest against the Muslim Brotherhood as planned for June 30.

Now, in a recent live interview on Tahrir TV, former Egyptian Member of Parliament, Mustafa Bakari, exposed the relationship between Patterson and Khairat al-Shater, the deputy leader of the Muslim Brotherhood. Among other things, he pointed out how she recently visited him at his private residence—as opposed to the party's headquarters—where she likely discussed with him internal matters concerning Egypt, including how "we [the U.S.] will stand with you [regarding the June 30 protests]," adding that she sees and treats him as the "true ruler of the nation."

Due to Patterson's ongoing and very open relationship with the Muslim Brotherhood, Bakari concluded that "in fact, in my opinion, she is a member of the sleeper cells of the Brotherhood, likely recruited by Essam al-Erian or Muhammad al-Baltagi."
A couple of days ago news broke that Mohamed Morsi, president of Egypt, has been tied to Benghazi by some leaked intelligence documents. There is growing evidence that Benghazi was likely a failed prisoner exchange to trade Ambassador Stevens for The Blind Sheik.
Does Obama support terrorists? You tell me.   How is it that Anti-Muslim Brotherhood/Anti-Morsi protesters in Egypt are smarter than 80% of the people in this country?