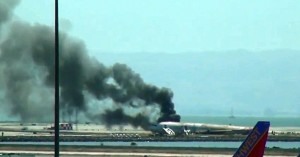 SAN FRANCISCO — A federal aviation official says an Asiana Airlines flight #214 has crashed while landing at San Francisco airport on runway 28. It was not immediately known whether there were any injuries.
Federal Aviation Administration spokeswoman Lynn Lunsford says the Boeing 777 crashed at San Francisco Airport while landing on Saturday.
A video clip posted to Youtube shows smoke coming from a silver-colored jet on the tarmac. Passengers could be seen jumping down the inflatable emergency slides.
According to a witness, around 11:20 a.m. the plane was just about to land, its landing gear had come down the back tail hit the ground and struck the runway which caused the tail of the plane came off.  The airline is based in Seoul, South Korea, its website says their Boeing 777's can carry between 246 to 300 passengers, there are reports coming out  of burned passengers.
"After wobbling for a minute after the tail was knocked off, the aircraft came to a stop on runway on upward."
[youtube IhvbVhUQC08 nolink]