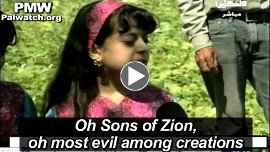 Palestinian Authority TV continues to promote Islam-based hate speech and Antisemitism, voiced by little children. As the Islamist brainwash their children to hate Jews at a very young age.
 This is promoted on Palestinian National TV and is widely accepted as appropriate to broadcast and indoctrinate the Muslim youth into hatred toward the Jewish people.  Even Nazi German was not this bold to their evil ideologies, the next generation of Muslims is going to be frighting to say the least.
In this latest example, two sisters recited a poem that included the following demonization of Jews:
"You who murdered Allah's pious prophets (i.e., Jews in Islamic tradition)
Oh, you who were brought up on spilling blood
You have been condemned to humiliation and hardship
Oh Sons of Zion, oh most evil among creations
Oh barbaric monkeys, wretched pigs."
The poem also taught that Jerusalem is not for Jews, because Jerusalem "vomits" out the Jews who are said to be "filth" and "impure":
"Jerusalem vomits from within it your impurity
Because Jerusalem, you impure ones, is pious, immaculate
And Jerusalem, you who are filth, is clean and pure."
Palestinian Media Watch
 has documented previous examples of hate speech and Antisemitism voiced by children on official PA TV, including:
For more examples click here.
[youtube NyRLyXCj3Lg nolink]