At least 40 people were killed Monday in clashes outside a military building in Cairo, where supporters of ousted Egyptian President Mohammed Morsi were holding a sit-in against what they are describing as an "illegal coup", according to an Egyptian health ministry official.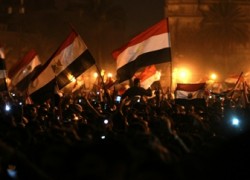 Precisely what happened in the run-up to what Morsi's supporters are already calling a "massacre" is unclear, but what is known is that Egyptian soldiers opened fire on the crowd, made up largely of Muslim Brotherhood members, causing large scale carnage.
Both the Brotherhood and the Egyptian health ministry said at least 40 people had been killed, including an army officer. Some 300 people were reported to be wounded.
Egyptian television showed casualties being taken to a makeshift hospital in the Rabaa al-Adawiya mosque, where Brotherhood activists have been based.
The Muslim Brotherhood said the army had raided its sit-in at about 4:00 a.m., as protesters were in the middle of dawn prayers.
"The protesters were taken unawares and the troops used live ammunition, bird shot and tear gas," protester Alaa el-Hadidi told the BBC.
Another protester, Mahmud al-Shilli, told the AFP news agency that troops had used tear gas but that a group of men in civilian clothing had then opened fire.
"The thugs came from the side. We were the target," he told AFP.
The Freedom and Justice Party, the Brotherhood's political wing, called on Egyptians to stage an "uprising" in response to the incident, against "those trying to steal their revolution with tanks".
Al-Jazeera showed footage of at least six dead bodies laid out on the ground, some with severe wounds. A medic from the area, Hesham Agami, said ambulances were prevented from taking the wounded to hospitals because the military had blocked off the roads.
A Salafist party, Al-Nour, said Monday it had withdrawn from talks on the formation of a new cabinet following the killing of the Morsi supporters.
"We have decided to withdraw immediately from all negotiations in response to the massacre outside the Republican Guard" headquarters, Al-Nour spokesman Nadder Bakkar said on Twitter.
The spokesman told Al Arabiya that a committee must be formed to inquire into Monday's incident.
Armed supporters of ousted Islamist President Mohammed Morsi kidnapped two Egyptian soldiers in the Ain Shams area of Cairo, an Al Arabiya correspondent reported Monday.
An army official, cited by state news agency MENA, confirmed the news, adding that the soldiers were pushed into a vehicle and forced to make pro-Morsi and anti-military statements on a loudspeaker.
Identifying the two as Samir Abdallah Ali and Azzam Hazem Ali, the military spokesman added that one soldier was "severely beaten" even as he was making the pro-Morsi statements.
Egypt's Muslim Brotherhood called for an "uprising" on Monday after at least 35 of its supporters were shot dead outside an army headquarters in Cairo, and urged international intervention to prevent a "new Syria."
Source material can be found at this site.