July 8, 2013 14:54
by Alex Margolin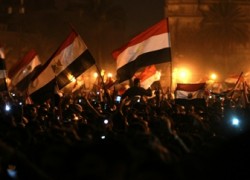 1. The Muslim Brotherhood called for an intifada in Egypt after dozens of Morsi supporters were killed in protests.
The Freedom and Justice Party "calls on the great Egyptian people to rise up against those who want to steal their revolution with tanks and armored vehicles, even over the dead bodies of the people," it said in a statement.
More on today's violence at the Daily Telegraph.
2. Egyptian teen thrown off of a roof for throwing rocks at Muslim Brotherhood supporters is becoming the symbol of the Egyptian military coup and its aftermath.
Cellphone videos of the rooftop incident — though not showing Hamada's fall — surfaced Saturday and quickly became the most talked-about footage of the political unrest in Egypt. Anti-Morsi demonstrators returned to Field Marshal Ahmed Ismail Street on Sunday chanting, "Down with the murderers of children!"
Teenage boys, including Hamada's friends, sealed off the apartment building's black iron gate while murmuring bystanders snapped pictures of the rooftop.
3. Outgoing Iranian President Mahmoud Ahmadinejad claims the major accomplishment of his presidency was his Holocaust denial.
Source material can be found at this site.