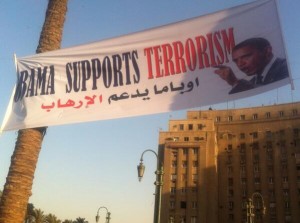 The Obama Administration's indecision in the face of current events in Egypt is backfiring. Freedom-aspiring Egyptians are angry with the U.S. for supporting now-deposed President Mohamed Morsi as he became more and more authoritarian, while Morsi's backers are angry with the U.S. for supporting a military coup of a democratically elected president.
As Heritage Distinguished Fellow Kim Holmes explains in a Washington Times op-ed, it is too soon to tell how events will turn out in Egypt, but it is time for President Obama to clearly articulate his support for real democracy and the rule of law.
The problem is that, once elected, Morsi focused more on solidifying Muslim Brotherhood control instead of "addressing Egypt's worsening economic, social, and political problems," as Heritage experts James Jay Carafano and Jim Phillips explain. Nevertheless, the Obama Administration never took a clear stand against his suppression of free speech, violation of human rights, and irresponsibility regarding the stagnant Egyptian economy. Now that Morsi has been ousted, some of his supporters accuse the U.S. of playing "a role in what happened."
Interim President Adly Mansour has laid out a timetable that would stage parliamentary elections in February 2014. If it holds, it will be a good first step. But there is still time for the interim government to abandon or delay any goal of advancing democracy, just as Morsi did. Democracy is more than elections; as Holmes explains, it also requires "upholding the rule of law, respecting the rights of all people (including minorities), and governing in a democratic manner." President Obama needs to state this clearly, firmly, soon, and often.
Source material can be found at this site.