FORT HOOD LABELED 'TERRORISM' FIRST
STILL CONSIDERED "WORKPLACE VIOLENCE" IN COURT!
DEMAND CONGRESS PASS H.R. 704 and 705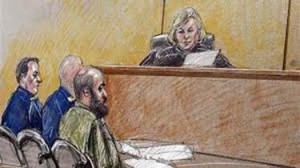 URGENT: Fort Hood "workplace violence" murderer Major Nidal Hasan told jurors recently that he SUPPORTS THE TALIBAN AND STRICT SHARIAH LAW. He told one colonel that Abdulhakim Muhammad, who is serving life in prison for shooting a solider outside a Little Rock, Ark., military station, was "his brother and friend."
He also admitted to ADMIRING THE TALIBAN AND SUPPORTING STRICT SHARIAH LAW but he is being treated as a common criminal instead of as a terrorist! If this designation is not immediately changed back to one of terrorism, HASAN WILL SOON BE QUESTIONING HIS OWN VICTIMS!
BLAST-FAX THE U.S. HOUSE TO PASS H.R. 704 AND 705!
HELP REP. JOHN CARTER DEMAND CONGRESS REDESIGNATE FORT HOOD
A "TERROR" ATTACK AND UNLOCK THE MUCH-NEEDED BENEFITS FOR SURVIVORS AND VICTIMS' FAMILIES – REMEMBER OUR HEROES!
Serving as his own attorney, Hasan has an active role in the jury-vetting process. The selected jury will consist of a pool of 13 Army officers with ranks equal to or higher than his when he waged an act of "workplace" jihad in the name of Allah killing 13 and leaving nearly 13 dozen wounded on the Texas base more than three years ago.
As a perpetrator of "workplace violence", Nidal Hasan is getting these privileges NOT available to terrorists such as participating in selecting the jury that will ultimately decide whether or not he gets the death penalty.
Former Republican mayor of New York City Rudy Giuliani called the classification insulting to the victims and dangerous during a House Homeland Security Committee.
"I think it is exceedingly damaging to engage in this fiction that the attack at Fort Hood was workplace violence," Giuliani testified.
Other testimony affirmed that this was indeed an act of TERRORISM.
"The day after the Fort Hood attack, the National Counterrorism Center entered the attack of Fort Hood as a – in the worldwide incident terrorist database – as a terrorist attack, the day after…. The NCTC called it terrorism the day after the attack," Michael Leiter, the former head of the NCTC which is the government's central hub for threat analysis, testified.
Even usually far left Texas Democratic Rep. Sheila Jackson Lee wants the designation to change.
"I would indicate to you, mayor, that many civilians were impacted at Fort Hood and I champion the cause that it was in no way workplace violence," Jackson Lee said.
Unless Congress takes IMMEDIATE ACTION to RECLASSIFY the Fort Hood shooting by Major Nidal Hasan as an ACT OF TERROR rather than "workplace violence" – justice will not be served for the surviving victims, the families of the killed victims and America's war on terror!
There will be NO PURPLE HEARTS AND NO APPROPRIATE MEDICAL AND PAY BENEFITS FOR HIS VICTIMS – DEAD OR ALIVE – WHILE IT'S NOTHING BUT CRIMINAL PRIVILEGE FOR HASAN!
In a May 23rd speech Barack Hussein Obama himself LINKED FORT HOOD – as an act "inspired by larger nations of violent jihad" – WITH THE BOSTON MARATHON BOMBING!
"Deranged or alienated individuals – often U.S. citizens or legal residents – can do enormous damage. Particularly when inspired by larger notions of violent jihad." Obama said during the speech. "That pull towards extremism appears to have led to the shooting at Fort Hood and the bombing of the Boston Marathon."
After Obama's speech, Rep. Tom Rooney claimed Obama's own words may help push for reclassification…
"When he put Ft. Hood in the same breath as Boston… he was basically making our case for us," Rooney said during an interview with Fox News.
MORE THAN ONE MONTH LATER, HOWEVER, OBAMA'S OWN APPOINTED ISLAMIST SYMPATHIZER CHUCK HAGEL IS DOING NOTHING OVER AT THE DEPARTMENT OF DEFENSE TO CHANGE THIS!
As reported by The Blaze, since 2009 BOTH LIBERALS AND CONSERVATIVES have criticized the Obama administration for its "workplace violence" designation of the attack.
In May, ABC News reported that at least one Democrat has JOINED the fight for re-designation of the attack:
A long-serving Pennsylvania Democrat has joined Republican colleagues to ask Defense Secretary Chuck Hagel to overturn the "indefensible" decision by the military to designate the Fort Hood massacre "workplace violence" rather than terrorism.

"This designation has since resulted in an embarrassing lack of care and treatment by our military for the victims and their families," said Rep. Chaka Fattah (D-Penn.), Rep. Thomas Rooney (R-Fla.) and Rep. Frank Wolf (R-Virg.) in a later dated May 6 and obtained by ABC News.

In the letter, the trio of lawmakers blame "considerations of 'political correctness'" not only for the "workplace violence" designation, but for allowing the attack to unfold in the first place.

Fattah's entrance into the controversy comes after Republicans in Congress have generally taken the lead in pressing the White House for answers about the victims' treatment, as chronicled in an ABC News investigation.
STILL, TERRORIST Major Nidal Hasan is getting ALL the rights and privileges afforded to the common criminal as if the Fort Hood shooting really were a case of "workplace violence", including:
1. The RIGHT to participate in JURY SELECTION

2. The RIGHT to cross-examine HIS VICTIMS
Jury selection began JUNE 9th and the trial itself is set to begin AUGUST 6th, we are running out of time to STOP THE OBAMA ADMINISTRATION'S EMPOWERMENT OF THIS TERRORIST WHO KILLED THIRTEEN AMERICANS – NOT INCLUDING AN UNBORN CHILD – AND INJURED 32!
THE ELECTION IS OVER – CONGRESS CAN COMPEL BARACK OBAMA TO DO SOMETHING MORALLY RIGHT FOR A CHANGE AND CORRECT THIS WRONG!
On June 18th, Judge Tara Osborn explained to Hasan and his defense team the roles they will play if Hasan is to represent himself – he will have to act as a REAL ATTORNEY meaning he gets to participate in the JURY SELECION PROCESS and give the opening statement.
He can even testify on his own behalf!
With his defense lawyers safely on standby, Hasan will have full control over the preparation and presentation of his case – but apparently he is ALL SET because he withdrew his continuance, the biggest reason delaying the criminal trial this long in the first place.
That means unless we take immediate action to DEMAND Congress use these last few weeks to DEFEND HIS VICTIMS with the redesignation of Fort Hood as a "terror" attack, Hasan will be tried for workplace violence rather than as a terrorist.
In a recent interview with FoxNews, Jim Nicholson – Secretary of Veterans Affairs under President Bush – let it be known that "a lot could be done" if Congress found the spine to RE-CATEGORIZE the Fort Hood shooting to what everyone without-a-doubt already knows it was – A TERRORIST ATTACK!
Some of those things…
Hasan's victims would not be cross-examined by the Islamist who attempted to kill them in the name of Allah
Hasan's victims – both survivors and the families of those he successfully murdered – would receive medical and compensation benefits not unlocked by Obama's bogus "workplace violence" designation
And all it would take is the WILL on Capitol Hill to do something meaningful to honor and care for our soldiers killed and wounded by an jihadi terrorist right here on American soil!
Nicholson says that regardless of whether the mis-categorization of Fort Hood as "workplace violence" is because the powers that be don't want to admit that they MISSED ALL THE WARNING SIGNS or because the military has become so PC that they JUST IGNORED IT, or because BARACK OBAMA was running for reelection on the whole "war on terror is over" gambit – Congress can still make it right and doing so will have NO impact on Hasan's right to a "fair trial" – the puny excuse used by Obama and his crowd – because EVERYONE IN AMERICA, EVEN HASAN, ALREADY VIEWS THE ATTACK FOR WHAT IT WAS, AN ACT OF TERROR IN THE NAME OF ALLAH!
Nicholson also let his frustration be known that Washington is letting this politically correct charade of "workplace" violence continue while Hasan rakes in over $270,000 in MILITARY OFFICER'S PAY!
Yes, Hasan cashes in on OUR TAXPAYER DOLLARS despite being in PRISON awaiting trial for mass murder WHILE Fort Hood survivors and victims' families suffer and make-do WITHOUT the same medical care and compensation as those attacked in combat zones by terrorists abroad…
Obama even ordered a drone strike in 2011 to KILL HASAN'S TERROR-MASTER MENTOR, 9/11 co-conspirator Anwar Al-Awlaki – but when it comes to a simple acknowledgement of the truth of terrorism to care for and honor our soldiers, FORGET ABOUT IT!
That's just the OBAMA way!
AND NOW WE'RE LEARNING THAT GIVEN HASAN'S "CRIMINAL" STATUS RATHER THAN HIS PROPER CATEGORY AS A TERRORIST, HE'S GOING TO BE ALLOWED TO QUESTION HIS VICTIMS IN COURT!
THIS IS ENRAGING – HAS THE AMERICAN JUSTICE SYSTEM AND THIS ADMINISTRATION AND CONGRESS GROWN SO CALLOUS THAT THEY WOULD ALLOW THE P.C. CHARADE TO PUT HASAN IN A POSITION OF AUTHORITY OVER HIS VICTIMS?
APPARENTLY SO!
As we've addressed before, Fort Hood murderer – make that Fort Hood Islamist terrorist – Major Nidal Hasan has been paid MORE THAN $278,000 since his infamous Nov. 5, 2009 jihadist shooting spree that left 13 American troops dead and 32 injured.
Meanwhile, the survivors of this ruthless attack are eating RAMEN NOODLES and moving in with family members to scrape along! Because of this TERROR ATTACK's wholly FALSE designation as "workplace violence" victims' families and surviving wounded soldiers are struggling to pay their bills without receiving the same pay and medical benefits given to those wounded in combat overseas.
BUT THIS GRAVE INJUSTICE TO OUR MEN AND WOMEN IN UNIFORM AND THEIR FAMILIES DOES NOT HAVE TO CONTINUE… IF ONLY CONGRESS WILL STAND UP FOR AMERICANS AND THE TRUTH – AND DEFY OBAMA!
As the horrific recent London beheading of soldier Lee Rigby has so tragically and undeniably confirmed, the battle against Islamist extremism, against those who want to kill us for either our Christian faith or Western ways, is not limited to remote areas of the Middle East and Eurasia!
It is right here on our streets and in our communities just as it was at Fort Hood nearly FOUR years ago…
YET THE BRUTAL FACTS HAVEN'T PROMPTED JOHN BOEHNER TO PICK UP THE FORT HOOD FIGHT – MAYBE YOUR UNRELENTING PRESSURE WILL!
Whether in Fort Hood or Fallujah – it does not matter – they were shot and slain defending America and liberty against a global jihad that seeks our destruction. Our military men and women are our bulwark of freedom and deserve deathless honor.
Retired Army Spc. Logan Burnett was a soon-to-be-deployed reservist when he was shot three times by Nidal Hassan.
"I honestly thought I was going to die in that building," said Burnett. "Just blood everywhere and then the thought of – that's my blood everywhere."
Burnet nearly died in the name of 'Allah.'
He's had more than a dozen surgeries since the shooting and post-traumatic stress still keeps him up at night.
"There have been times when my wife and I cannot afford groceries. We cannot afford gas in our car," Burnett told Dallas-Fort Worth's NBC 5 Investigates. "Literally, times where we ate Ramen noodles for weeks on end. [That Hasan is still earning a paycheck] makes me sick to my stomach," said Burnett.
He and his wife have been forced to move to Arkansas to live with family.
But this doesn't seem to bother House Speaker John Boehner, who STILL REFUSES TO MOVE FORWARD THE BILL TO RIGHTLY DESIGNATE THE FORT HOOD SHOOTING AS A TERRORIST ATTACK!
"WORKPLACE VIOLENCE" – IT IS ENOUGH TO MAKE ANY RED-BLOODED AMERICAN SICK.
While a lawyer who previously represented Hasan claimed that his poor client couldn't find a bank willing to deposit his Army paychecks (GOD BLESS TEXAS), a Fort Hood spokesman has made it clear that the issue has since been resolved…
And apparently, the Army IN THEORYcould get some money back from Hasan by demanding reimbursement for the cost of medical treatment for the wounds he sustained when a police officer shot him to stop his vicious, murderous attack.
We haven't heard of any plans by the Army to do that.
So, Hasan has been receiving deferential treatment to respect his "faith" – like permission to grow the Muslim beard he couldn't while he was an active duty Army medical officer – and has been GETTING PAID. Meanwhile, his victims struggle in medical rehab and can't work, and along with the families of those MURDERED IN COLD BLOOD by this terrorist they are reduced to eating ramen noodles to try to make ends meet!
"We're giving the defendant in this case every benefit of the doubt. But yet we're not giving the benefits to the victims," said Rep. Thomas Rooney (R) Florida.
NBC5 Investigates reports Rooney, a former prosecutor at Fort Hood, recently signed a bipartisan letter urging defense secretary Chuck Hagel to "…reclassify the victims' deaths and injuries as 'combat related'…"
The letter said the current situation has "…resulted in an embarrassing lack of care and treatment for the victims and their families."
"What happened here is not a case of workplace violence. What happened here was an attack on our military by a terrorist element specifically targeting our military, which just so happened to be in the United States of America," said Rooney.
For months, we've been in direct contact with Congressman Judge John Carter's office of Texas – the Representative for Fort Hood's District – to move TWO of his bills forward and address some of the massacre aftermath.
BUT WE NEED YOUR HELP TO BULLWHIP BOEHNER TO PICK UP THIS BILL AND HONOR THE SACRIFICES OF OUR FORT HOOD SOLDIERS!
H.R. 704 and H.R. 705 respectively will protect military whistleblowers (such as those who TRIED IN VAIN for years to report Fort Hood shooter Nidal Hassan's Islamist extremism – only to be silenced by political correctness) and REDESIGNATE THE FORT HOOD MASSACRE AS A TERROR ATTACK so that survivors and the families of victims receive the SAME BENEFITS as those attacked overseas.
Now it's up to YOU to demand the Boehner-led Congress to throw its full support behind these bills and protect our soldiers – with plenty of Democrats in Veteran-heavy districts up for re-election there is no reason H.R. 704 AND 705 shouldn't sail the whole way through the House and Senate straight to Obama's desk!
Inquiring minds want to know from Speaker Boehner – Why have these bills been bottled up for nearly four solid years? Why is Republican "leadership" in the House AWOL on this vital issue?
YOUR support for properly designating the Nov. 5, 2009 massacre at Fort Hood in Killeen, Texas as an act of TERRORISM rather than Obama's pitiful politically correct designation as 'workplace violence' is THE ONLY WAY we will move this fight forward among the craven politicos on Capitol Hill!
Right now, Rep. Carter needs your help to get MORE CO-SPONSORS from the Capitol Hill cowards unwilling thus far to take a stand on this issue to support our soldiers who survived the shooting and assist the families of those who did not.
And MAKE NO MISTAKE: If we get these desperately needed bills out of committee, there is NO REASON they will NOT pass through Congress as long as we hold our elected officials' feet to the fire!
The same old excuse for inaction that we're hearing – that properly re-designating the Fort Hood shootings an act of terror will somehow adversely affect the trial, when Maj. Nidal Hassan yelled "Allahu Akbar!" and shot down his unarmed fellow soldiers – is WORN OUT and UNACCEPTABLE!
On Mar. 29, the U.S. Army decided NOT to award Purple Heart medals to the victims, claiming that giving them medals would somehow damage Hasan's "ability to receive a fair trial"! The Army "position paper" further said the medal "would set the stage for a formal declaration that Major Hassan is a terrorist" as the Purple Heart is awarded to those "wounded or killed in any action against an enemy of the United States."
IN OTHER WORDS, THE ARMY IS FIGHTING FOR NIDAL HASAN, TERRORIST, RATHER THAN HIS VICTIMS! Hasan NEVER had any right to a "fair" trial for "workplace violence" as some sort of disgruntled employee once he joined the Army! Military justice dictates when you take up arms with the enemy, you become an enemy combatant! And when he took up arms against his fellow soldiers at the encouragement of terrorist mentors and made his jihad against his Army comrades, shouting "Allahu Akbar!" he BECAME a murdering terrorist. Opening fire and massacring in cold blood 13 and wounding 32 who are now being ignored and left bereft of benefits by gutless bureaucrats and politicians more concerned about rocking the boat than about justice!
HASSAN GAVE UP ANY "FAIR TRIAL" RIGHTS FOR "WORKPLACE VIOLENCE" WHEN HE MADE CONTACT WITH SINCE-EXECUTED TERRORIST AND 9/11 PLOTTER ANWAR AL-AWLAKI!
Neal Sher, an attorney representing Fort Hood victims, says the Army's excuse for denying the Purple Hearts is "rubbish," adding: "This is a cynical travesty. The only thing the government has done is guarantee anything done to help the victims will effectively impair and prevent Hasan's prosecution."
Just like the bureaucrats' politically correct prerogatives GUARANTEED ALL WARNING SIGNS of Hasan's fanaticism would be IGNORED!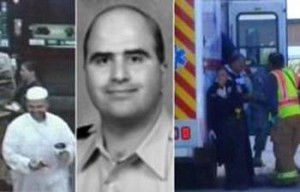 Remember, a two-year long independent review of the Fort Hood attack BY FORMER FBI DIRECTOR WILLIAM WEBSTER at the request of FBI Director Robert Mueller revealed that the FBI was too concerned about political correctness to launch an investigation of Maj. Nidal Hasan despite all the red flags, including a series of emails to terrorist Anwar al-Awlaki about making jihad and the permissibility in Islam of killing those known to you! Al-Awlaki, who was already the subject of a terrorism-related FBI investigation himself, gave Hasan favorable indicators about killing, and encouraged Hasan to stay in touch!
The emails, which began in December 2008, and which were seen by TWO FBI ANTI-TERRORISM TASK FORCES – were IGNORED just like every other warning sign because the FBI was concerned with the P.R. fall-out of investigating an American Muslim in the military…Hasan's bosses at the Defense Department, who we later learned could have revealed ALARMING details about Hasan's loyalties and extremism, were never contacted.
You see, Nidal Malik Hasan was described by his classmates as a "ticking time bomb" BEFORE he went on a killing rampage.
In a 2009 report by TIME, Hasan's fellow students (speaking privately because they were ordered not to speak publicly) said they were angry that political correctness led their superiors to IGNORE THE WARNING SIGNS witnessed while Hasan was a student at the Uniformed Services University of Health Sciences in Bethesda, MD during the 2007-2008 attack BEFORE Hasan ever made it to Fort Hood. (Yes, YOU paid for his affirmative action medical training.)
"We asked him pointedly, 'Nidal, do you consider Shari'a law to transcend the Constitution of the United States?' And he said, 'Yes,' " a classmate told TIME in 2009. "We asked him if homicidal bombers were rewarded for their acts with 72 virgins in heaven and he responded, 'I've done the research – yes.' Those are comments he made in front of the class." No inquiry was triggered. "I was astounded and went to multiple faculty and asked why he was even in the Army," the officer said. "Political correctness squelched any opportunity to confront him."
"He wore his rigid Islam ideology on his sleeve and weaved it throughout his coursework," said another officer. "He would be standing there in uniform pledging allegiance to the Koran."  Another classmate reported that Hasan would regularly interrupt the entire class by leaving early for prayer.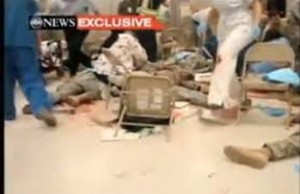 "There's a lot of evidence that would lead reasonable people to believe that this was potentially an act of terrorism," Representative Peter Hoekstra of Michigan, senior GOP member of the House Intelligence Committee, said just days after the attack.
"As more and more facts surrounding the Fort Hood attack surface," Republican Senator John Cornyn said in a letter shortly after the attack, "it looks increasingly probable that the alleged attacker, Major Nidal Hasan, heeded [Internet-based] terrorist calls to violence, compelled by a fanatical religious ideology."
Cornyn also stressed that comments like those allegedly made by Hasan in class should be investigated "regardless of whose particular sensitivities might be offended."
Yet, only Michael Burgess (R-TX) and Frank Wolf (R-VA) have co-sponsored both H.R. 704 and 705 and Bill Flores (R-TX), Michael McCall (R-TX), Tim Griffin (R-AR), Lynn Westmoreland (R-GA), Roger Williams (R-TX), Ron DeSantis (R-FL) and Brad Wenstrup (R-OH) are still the only co-sponsors of H.R. 705 to re-designate Fort Hood a terror attack!
Still employed with your tax dollars, Rep. Hoekstra – and every other Member of Congress whose sponsorship is MISSING – MUST HEAR FROM YOU!
ALL KINDS of people at Fort Hood saw Hasan coming, tried to report him, and WERE SUPPRESSED and THREATENED WITH PROFESSIONAL REPRISALS IF THEY PRESSED REPORTS AND COMPLAINTS!
This MUST NOT be allowed to continue in our military and government, and if we have to treat decent accountability as "whistleblowing" and protect it – then so be it!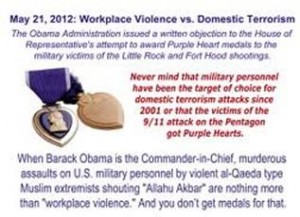 Instead of honoring the SOLDIERS' lives lost, and supporting survivors of the shooting and their friends and family with needed combat benefits and recognition of their valor, the petty Campaigner-in-Chief Obama has chosen to ignore them in one of the ugliest political maneuvers of his remarkably selfish tenure in the Oval Office.
Obama appears to have issued a secret administration directive to prevent the Department of Defense from ever declaring the Fort Hood massacre of our soldiers by an Islamist traitor a terrorist attack as logical reasoning – if not HONOR – would otherwise compel DOD leadership to do so.
But it's not too late…
Last fall, Reps. John Carter and Michael McCaul (R-TX) wrote a letter to Secretary of Defense Leon Panetta and Secretary of the Army John McHugh asked for the Purple Heart designation for our soldiers murdered or wounded by Hasan.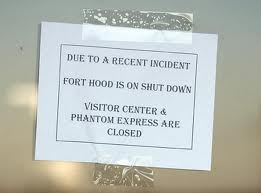 "Based on all the facts, it is inconceivable to us that the DoD and Army continue to label this attack, 'workplace violence' in spite of all the evidence that clearly proves the Fort Hood shooting was an act of terror," they wrote.
It is time for the administration to recognize the Fort Hood shooting for what it is – an act of terrorism," wrote McCaul, the chair of the House Homeland Security Committee, wrote in a separate letter to colleagues that was co-signed by Rep. Frank Wolf (R-VA).
PLEASE HELP US DEMAND that the WHOLE Congress stand up with these few Members to buttress and if necessary ENFORCE our soldiers' fight for truth and justice! We MUST DELIVER OUR DEMAND to Capitol Hill to get behind our soldiers or get out of office!
Because right now, the Department of Defense is FIGHTING the injured and the families' lawsuit and Barack Obama is saying NOTHING about this PRE-MEDITATED MURDER OF OUR SOLDIERS IN THE NAME OF "HOLY JIHAD." As Investors Business Daily points out, had Nidal Hasan gone AWOL and fled to Yemen to convene with his terrorist buddy al-Awlaki in person, would he have ended up on Barack Obama's oversight-free drone kill list?
AMERICA, OBAMA MUST NOT GET AWAY WITH BRUSHING THE FORT HOOD TERROR ATTACK OFF AS 'WORKPLACE VIOLENCE' WHILE THE ISLAMISTS EMBOLDENED BY NO MEANINGFUL CONDEMNATION SLOWLY TAKEOVER AT HOME AND ABROAD.
Defend our soldiers and defend our freedom by STOPPING the P.C. crisis wreaking havoc on our military might and national security! Stop this administration's Islamist-coddling lies that murderous Muslim killers shouting "Allahu Akbar" are NOT trying to exterminate and conquer us!
FOUR years later – remember our military men and women of Fort Hood who were wounded and who even made the ultimate sacrifice for American freedom confronting a hate-filled, murderous jihadist… and DEMAND that Obama, the Congress and the Pentagon finally honor them and care properly for their families.
BLAST-FAX THE U.S. HOUSE TO PASS H.R. 704 AND 705!
HELP REP. JOHN CARTER DEMAND CONGRESS REDESIGNATE FORT HOOD
A "TERROR" ATTACK AND UNLOCK THE MUCH-NEEDED BENEFITS FOR SURVIVORS AND VICTIMS' FAMILIES – REMEMBER OUR HEROES!
For America,
The Editors
Patriot PAC – www.PatriotPAC.com