MK Miri Regev (Likud) attacked fast food chain McDonalds' Israel franchise owner, Omri Padan, for his decision to boycott the city of Ariel because it is located on what he sees as "occupied territory."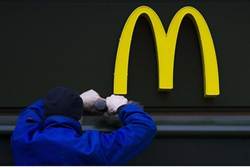 "Mr. Padan established Peace Now," she said on Channel 10 Saturday night. "He is a leftist, he is a defeatist, he cannot make such a hypocritical and ugly decision."
"We all understand that Ariel is part of the settlement blocs, Regev added. "This is part of the diplomatic terrorism being waged against Israel. If we were to apply Israeli law in Judea and Samaria, it woould not have happened. Ariel is Israel."
MK Regev hinted that Transportation Minister Yisrael Katz, her rival in an upcoming contest for the chairmanship of the Likud Secretariat, is bribing people to support him. "Katz is a leading, strong candidate… because he is Transportation Minister, and he hands out town squares and bridges, and I can't do that," she complained.
Ariel Mayor Eliyahu Shviro said on Thursday: "There is no place in our country for boycotts, it's a miserable decision. We condemn any boycott which comes from ideological motives."
Source material can be found at this site.