Roderick Scott in 2009  much like the Zimmerman case, shot and killed a 17 year old teen named Christopher Cervini as he claimed self defense.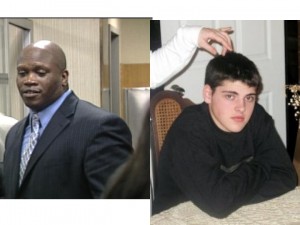 Scott was charged with  first-degree manslaughter.
What the media wont tell us is Scott was Black and Cervini white, the jury found Scott was too found not guilty like Zimmerman.
Scott like Zimmerman had a gun permit,  his girlfriend called 911 for him when he saw three teens breaking into his neighbors car.
Scott confronted the teens, as they broke into the neighbors car. Scott said he asked them to stop and wait for the police. One of the teens,  James Cervini, the Christopher's cousins whom were together that night said Scott shot Christopher after he yelled, "Please don't shoot me, I'm just a kid."  Scott on the other-hand claimed he fired only after Christopher came running at him in a threatening manner.
Similarities to the Zimmerman Case
Zimmerman followed Martin to not lose sight of him before the police arrived. Scott said he also he left his home because he felt the teen would have been long gone by the time police arrived.
Zimmerman made a call to 911, Scott had his girlfriend call 911 for him. . The calls helped both Zimmerman and Scott show that intent to kill was not present, as people who are looking to kill don't typically call 911 and notify them of their name phone number and location.
Zimmerman left his car and followed Martin,  while Scott observed Cervini first hand of breaking into the neighbors car. Scott and Cervini never had a physical fight like Zimmerman and Martin did. It would have been harder for Zimmerman to escape with Martin on top of him bashing his head in the curb.
The media and leftist loons went after Zimmerman. while there was virtually no coverage of the Scott case in 2009 as it does not fit into their political agenda.
Martin vs. Cervini
For the leftist media to make the claim that if George Zimmerman was black and Martin was white, Zimmerman would have been convicted, but looking at the Scott case that is certainly not true.
Despite the similarities in Scott's not guilty verdict,  the media or the left have not said much in regards to this case.
Resources:
YNN Rochester- rochester.ynn.com
Decoded Science- www.decodedscience.com
Snopes- www.snopes.com
The Rochesterian- therochesterian.com