'BARRY SOETORO' A REGISTERED DC VOTER
HOME ADDRESS: 1600 PENNSYLVANIA AVE.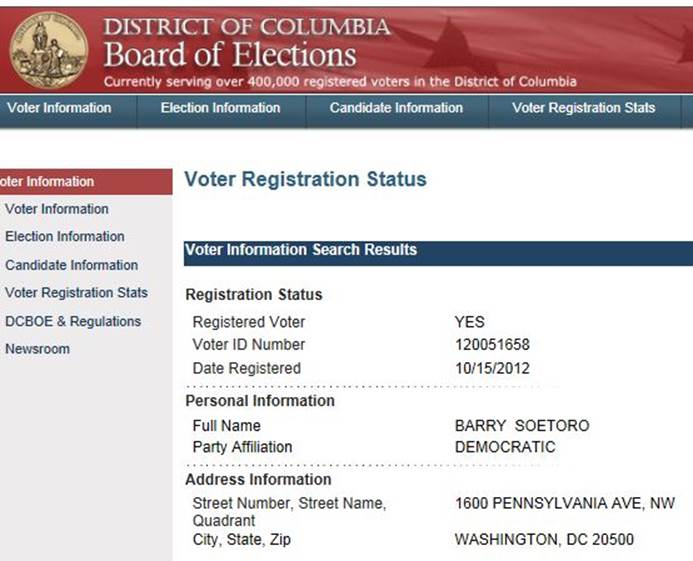 DEMAND PROOF POSITIVE NOW!
However unlikely it is that even the most arrogant man in America, Barack Hussein Obama, would be so brazen as to register to vote under his Indonesian name – Barry Soetoro – and use the White House address, PJ Media's search of the D.C. Board of Election records and this astonishing result underscores the potential for FRAUD and the ease with which someone can trick the system.
It is part and parcel with the still existing LOOPHOLE in Hawaii's birth certificate issuing system which allows foreigners to claim a birth in Hawaii to get the golden ticket to U.S. citizenship – just as it was when young Barry was born.
With THREE MORE YEARS of Obama looming, Congress must be compelled to demand PROOF POSITIVE!
HELP SHERIFF JOE MAKE HIS CASE IN COURT AND ON CAPITOL HILL
SELECT HERE TO DEMAND CONGRESSIONAL AND STATE SUPPORT FOR PROOF POSITIVE – INSIST OUR ELECTED OFFICIALS DO THEIR DUTY!
As
WND
reported in 2008, "Barry Soetoro" was the name used to register young Barack Obama (then using the adopted name of his Indonesian stepfather) in primary school in Jakarta, Indonesia.
The official "early years" story is that Obama's American mother, Stanley Ann Dunham, separated from her first husband, Barack Obama Sr., in 1963 when Barry junior was just two years old before getting divorced altogether.
Dunham then married Lolo Soetoro, an Indonesian, and moved to Indonesia sometime between 1966 and 1967 with little Soetoro-Obama in tow.
This is confirmed by the school registration card listing Barry as a MUSLIM Indonesian citizen born in Honolulu, Hawaii, on Aug. 4, 1961.
When he was 10 years old, Barry Soetoro would move to Hawaii to live with his maternal grandparents.
With the loophole in Hawaii's birth certificate verification, with the DUAL U.S.-Indonesian citizenship and WITH MISSING Kenya-to-U.S. flight records from the week of Obama's birth, AMERICA NEEDS MORE PROOF THAT BARACK OBAMA SOETORO OBAMA IS IN FACT ELIGIBLE TO HOLD THE OVAL OFFICE!
As Sheriff Joe and the Cold Case Posse have repeatedly reminded us, after an on-going investigation for more than TWO YEARS now, they still cannot confirm nor deny Barack Obama's place of birth and thus "natural born" citizenship!
Despite the facts, the piles of evidence begging for a day in court and Congressional ACTION, our fight at Proof Positive has been long and arduous – but that might all be about to change…
Cold Case Posse lead detective Mike Zullo says Congress is interested and asking for MORE information about the document posted on the White House website in April 2011 and declared to much fanfare to be the bona fide birth certificate for Barack Obama. This is the same document that contains anomalies UNEXPLAINABLE by anything less than piecemeal fabrication rather than simply being scanned and uploaded from a genuine original document, which has yet to be produced by ANYONE.
"Mr. Obama has in fact not offered any verifiable authoritative document of any legal significance or possessing any evidentiary value as to the origins of his purported birth narrative or location of the birth event," Zullo reminds us. "One of our most serious concerns is that the White House document appears to have been fabricated piecemeal on a computer, constructed by drawing together digitized data from several unknown sources."
Now we have more details from the certified document analyst who has worked for Obama's eligibility DEFENSE lawyers and what was in his 40 page reported submitted by Sheriff Joe and the Cold Case Posse in the Alabama Supreme Court eligibility fight.
Grace Vuoto of the
World Tribune
reported that certified document analyst Reed Hayes, who has served as an expert for Perkins Coie, the law firm that has been defending Obama in eligibility cases, is now among the experts challenging the birth certificate.
The Tribune reported Hayes agreed to take a look at the documentation and called almost immediately.
"There is something wrong with this," Hayes had said.
Hayes then produced a 40-page report in which he says "based on my observations and findings, it is clear that the Certificate of Live Birth I examined is not a scan of an original paper birth certificate, but a digitally manufactured document created by utilizing material from various sources."
"In over 20 years of examining documentation of various types, I have never seen a document that is so seriously questionable in so many respects. In my opinion, the birth certificate is entirely fabricated," he says in his report.
"We have obtained an affidavit from a certified document analyzer, Reed Hayes, that states the document is a 100 percent forgery, no doubt about it," Zullo told the Tribune.
"Mr. Obama's operatives cannot discredit [Hayes]," Zullo said. "Mr. Hayes has been used as the firm's reliable expert. The very firm the president is using to defend him on the birth certificate case has used Mr. Hayes in their cases."
During his interview with World Tribune, Detective Zullo narrated his encounter with Hawaii Deputy Attorney General Jill Nagamine, who has steadfastly refused to confirm whether the White House PDF matches the document that should be in the archives:
"If you make a copy of your driver's license and alter it, is it still a copy?" Zullo asked Nagamine. She dodged, replying: "But you still have a driver's license."
This incident "sent all the alarm bells ringing," said Lt. Zullo.
As Zullo noted in his interview with WND, the re-creation of an official document or the creation of an "official" document is a crime in and of itself.
Vuoto writes:
The difference between a conspiracy theory and a crime is that a conspiracy theory cannot stand against the test of forensic evidence. Those who dismiss this investigation as merely "kooky" must answer these questions: Are leading experts in their field who have provided their professional assessment to a criminal investigation merely to be ignored?

Why would these experts risk their reputation and also commit perjury? It is therefore kookier to disregard these assessments summarily than to view them with an unbiased eye.
Still, for 14 years Barack Obama was being referred to as "born in Kenya and raised in Indonesia" by the literary agency Dystel & Goderich only to have his biography changed WHEN PRESIDENT OF THE UNITED STATES – and we're dismissed as "kooky" birthers!
When Yahoo! News' WHITE HOUSE REPORTER Rachel Rose Hartman recently wrote in her story about Obama's recent Africa trip that "he won't be stopping in the country of his birth" – IT WAS BRUSHED OFF AS SIMPLY AN HONEST MISTAKE, NO NEED FOR TOUGH QUESTIONS!
COULD IT BE THAT EMBATTLED OBAMA AND HIS LOYAL MEDIA MINIONS DON'T WANT TO REIGNITE THE "BIRTHER" DEBATE?
IT'S UP TO YOU TO TELL HIM – 'TOO LATE AND TOO BAD'!
U.S. Rep. Steve Stockman (R-TX) – the same freshman Congressman calling for Barack Hussein Obama's impeachment just months ago over Dear Leader's gun control edicts – is now paying close attention to the evidence of the COLD CASE POSSE ELIGIBILITY INVESTIGATION undertaken at the behest of his constituents by Sheriff Joe Arpaio!
It has been brought to our attention that STOCKMAN HIMSELF – NOT AN INTERN OR A STAFFER – attended a Constitutional Sheriffs and Peace Officers Convention in St. Louis, Missouri. Rep. Stockman also personally sat in on Lead Detective Mike Zullo's presentation about the EVIDENCE AGAINST BARACK OBAMA!
Stockman was presented with the powerful evidence firsthand and the fact that Hawaiian court certified forensic document expert Reed Hayes CONFIRMED that Barack Obama's birth certificate – the one he presented to the American people on April 27, 2011 as PROOF POSITIVE of his eligibility – IS FORGED…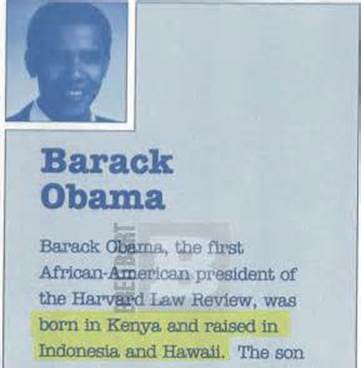 Stockman was confronted with the cold, hard fact that Year 5 of Obama, there is still NO proof that Stanley Ann Dunham IS Barack Obama's mother just as NO ONE knows for sure where he was born – whether Hawaii, Indonesia, Kenya or anywhere else on God's green earth.
Now, by all accounts Stockman is PREPARING FOR ACTION in the hopes of launching a congressional investigation into Barack Obama's FAKE vital records!
SHERIFF JOE and REP. STOCKMAN NEED YOUR IMMEDIATE SUPPORT TO GET A CAPITOL HILL INVESTIGATION OFF THE GROUND, but FAST! You can just imagine what a battle royal is going to be launched as soon as ANY of these facts are exposed in the hallowed halls of Congress! We MUST have our forces marshaled!
The evidence on Obama's ineligibility for office that the Posse has been building is impressive. Reed Hayes, Certified Document Examiner (CDE)  is dean of court qualified handwriting and document examiners at the top of his profession, who practices based from Honolulu, Hawaii. He has nearly 40 years of experience, and has worked as an expert instructor, international consultant and speaker in his field. Hayes' 40 page professional analysis of the Obama birth certificate was referenced in the Michael Zullo affidavit submitted to the Alabama Supreme Court in evidence of the Obama eligibility case.
Reed Hayes' report unequivocally concluded that the Obama "long-form" birth certificate image, located at WhiteHouse.gov, is a complete fabrication.
Carl Gallups reports:
"The rabid followers of the "O" (Obots) have rushed to denounce Reed Hayes as a "quack." However, one might be surprised to learn that one of Hayes' clients listed in the Expert Witness Directory at this link is an attorney with Perkins-Coie Law Firm.

Perkins-Coie is the law practice whose partners have provided Obama's personal defense against all birth certificate and natural born citizen litigation over the past five years. Hmmmmm. Very interesting indeed.

If it turns out that Sheriff Arpaio is successful in getting Congress to investigate the authenticity of Obama's BC, the Perkins-Coie legal team, who will be defending Obama, will be hard pressed to simply dismiss Reed Hayes as a "quack." This fact will be especially significant now that it is a revealed and proven truth that members of the Perkins-Coie firm have used Hayes as an expert witness! Their own prior cases, where Hayes was used as a witness, would be severely compromised if they use Saul Alinski-styled mocking attacks on Hayes."
As noted by Zullo, "The impressive credentials of Mr. Hayes, and the fact that he has testified in court cases for Perkins-Coie, coupled with the fact that Mr. Hayes is a registered Democrat, demonstrates the integrity of our investigation and our conviction that we possess incontrovertible evidence to back our case. It must be emphasized that we possess much more evidence similar to this revelation that we have not yet released for public information…"
Information WE need to help get investigated by lawmakers in Washington NOW!
THANKS TO YOU Sheriff Joe bested the recall radicals' efforts to overturn his election, and defame him to the public and his constituents – but he is not resting on his laurels!
Now our fight for PROOF POSITIVE has entered its most critical phase yet, and Sheriff Joe has saddled up and taken his evidence East!
With Maricopa County voters' confidence RE-AFFIRMED in Sheriff Joe Arpaio, "America's Toughest Sheriff" headed to Washington to continue our fight for the TRUTH when it comes to WHO Barack Hussein Obama really is and consequently, WHETHER he is eligible (or more likely ineligible) to be president of the United States…
And thanks to Sheriff Joe's third press conference, more Americans have been compelled by the weight of evidence against Obama to join our fight!
We MUST persevere and support defending the Constitution! This is the renewed momentum and vigor Sheriff Joe and the Cold Case Posse need to move a NATIONAL investigation forward in Alabama AND on Capitol Hill – but it's up to us to make sure Congress responds!
During a public presentation at the annual convention of the Constitutional Sheriffs and Peace Officers Association in St. Charles, Mo., (and then during a private closed-door session for police officers, elected officials and others), Cold Case Posse lead investigator Mike Zullo told syndicated radio host Carl Gallups that he was met with
"audible gasps" and "absolute shock"
as well as outrage and support for a congressional investigation when participants were confronted with the damaging evidence suppressed by the mainstream media for YEARS.
Zullo was amazed by the number of law-enforcement personnel and others at the conference who were unaware of the evidence against Barack Hussein Obama's birth documentation being legitimate.
He said one official came up to him afterwards and said: "I have been purposely ignoring this matter – until now. I will ignore it no longer."
And if LAW ENFORCEMENT can be convinced with the facts, is it such a stretch that our elected representatives – yes, even those in Obama's camp – can also be convinced to see reason, to understand that we aren't just rightwing loonies caught up in a "vast and byzantine" conspiracy theory, like the Alabama Democratic Party (quoting renowned constitutional scholar Jimmy Kimmel) would have them believe?
No, it's not – but first we must get them to OPEN THEIR EYES AND UNCOVER THEIR EARS! Our battle against the Obama faction propaganda, the gross national media neglect, and the outright malicious distortion and dishonesty against the Cold Case Posse investigation is enough for a fulltime job!
But now that Obama is at his weakest standing in years in public and elite opinion, MORE members of Congress will be open minded to lobbying of the evidence and facts, and then launching the very necessary investigation to finally seek Proof Positive!
YOUR enduring support for Sheriff Joe and the Cold Case Posse investigation is critical – it's what got us this far and it's what is going to get us HEARD ON CAPITOL HILL AND IN COURT!
The Posse's investigation remains ON-GOING though it was approximately FIVE YEARS AGO that Hillary Clinton's campaign first raised the red flag… and it is shameful that we still have not had our day in court, a necessity in holding this administration and the out-of-control Obama accountable to the American people!
As you know, Sheriff Joe launched the all-volunteer Cold Case Posse investigation of Barack Obama's eligibility after his constituents raised their concern about never-vetted, possibly ineligible candidates – notably Barack Hussein Obama – being placed on the 2012 presidential ballot.
ABOVE: Stamp on Obama's alleged Selective Service registration document compared with ACTUAL stamp used. CCP investigators were able to replicate Obama's "stamp" by using an exacto knife to cut out and then re-insert the 'appropriate numbers' in an official stamp.  (Not only were FOUR digit date stamps the ONLY kind used by the USPS, but the alignment between Obama's and a proven authentic USPS stamp are NOT THE SAME)
In a comprehensive affidavit submitted in the Alabama Obama eligibility case that is pending before that state's Supreme Court, written by Zullo, the Cold Case Posse attests it has thus far concluded that there was probable cause that forgery and fraud had been committed in respect of two documents: 1) the long-form or original birth certificate computer image presented by Mr. Obama, which contained multiple errors and anomalies, many of them serious and: 2) the selective-service document for Mr. Obama, which contained a two-digit year-stamp."
"This was contrary to specifications issued by federal regulations to the effect that the year of issue should be expressed as four digits on the stamp, and also contrary to any other selective-service registration document that we had been able to examine," Zullo wrote.
He noted that the governor of Hawaii was UNABLE for whatever reason to produce the original, long-form 1961 birth certificate for Obama (you know, to match the multi-layered mess released as "proof" on the White House website) which by the administration's account should have been easy to find… IF Barack Obama was indeed born in Hawaii.
Zullo also noted that Obama's endless refusal to release the following identification-affirming documents raises even MORE persistent doubts about his claims:
marriage license between Obama's father (Barack Sr.) and mother (Stanley Ann Dunham), name change (Barry Sotero to Barack Hussein Obama), Obama's adoption records, records of Obama's and his mother's repatriation as U.S. citizens on return from Indonesia, Obama's baptism records, Noelani Elementary School (Hawaii), Punahou School financial aid or school records, Occidental College financial aid records, Harvard Law School records, Columbia senior thesis, Columbia College records, Obama's record with Illinois State Bar Association, Obama's files from career as an Illinois State senator, Obama's law client list, Obama's medical records and Obama's passport records.
Then we ALL know about the 'coincidental' missing Kenya-U.S. international flight records for the week of Obama's purported birthday!
Zullo stated that Sheriff Joe "continues to recommend the Congress of the United States open an immediate investigation, including the appointment of a select committee, as regards to the authenticity of Mr. Obama's documentation, whether any crimes have been committed, and to determine Mr. Obama's eligibility for the office of president of the United States."
And let's not forget…
The Kenyan birth certificate and two different long-form birth certificates submitted by Team Obama will be competing for attention in Alabama's Supreme Court – but America has NO IDEA if any of them are Barack Obama's real birth certificate!
For the sake of our nation, this years' long fight for Proof Positive MUST NOT and WILL NOT be in vain! In the law enforcement community, only Sheriff Joe respected his constituents enough to listen and to RESPOND – and now WE the AMERICAN PEOPLE – must stand with him all the way TO TAKE ACTION!
What Sheriff Joe and the Cold Case Posse have uncovered in their eligibility investigation MUST BE PUT BEFORE CONGRESS AND THE COUNTRY – IT WILL RE-ENERGIZE GRASSROOTS AMERICA TO STAND UP AND FIGHT FOR FREEDOM AND THE RULE OF LAW!
PLEASE, WE ARE SO CLOSE TO THE TRUTH – BUT WE AREN'T THERE YET… HELP LOBBY CONGRESS TO INVESTIGATE AND TAKE OBAMA TO COURT!
Keep Faith,
The Editors
Proof Positive – www.Proof-Positive.com