Iran's new president has called Israel an "old wound" that "should be removed," in comments to reporters published two days ahead of his inauguration.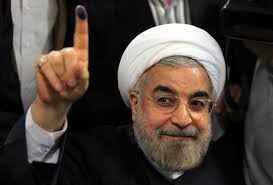 Hasan Rouhani's remarks about Israel show he is just as full of hatred toward Israel as was his predecessor, Mahmoud Ahmadinejad, and no less unbridled in expressing it.
Iran's semi-official ISNA news agency said Rouhani spoke after taking part in an annual "Al Quds Day" rally in Tehran on Friday.
It quoted Rouhani as saying: "The Zionist regime has been a wound on the body of the Islamic world for years and the wound should be removed."
Rouhani won Iran's June 14 presidential election, and will replace Ahmadinejad on Sunday. He has enjoyed the image of a "moderate," compared to his predecessor, but Israel has warned that he is "a wolf in sheep's clothing."
Meanwhile, outgoing President Ahmadinejad on Friday warned Israel that a regional storm was on the way to "uproot" the Jewish state.
"I will inform you with God as my witness, a devastating storm is on the way that will uproot the basis of Zionism," Ahmadinejad told crowds at annual Quds Day rallies.
Israel "has no place in this region", he added.
Source material can be found at this site.