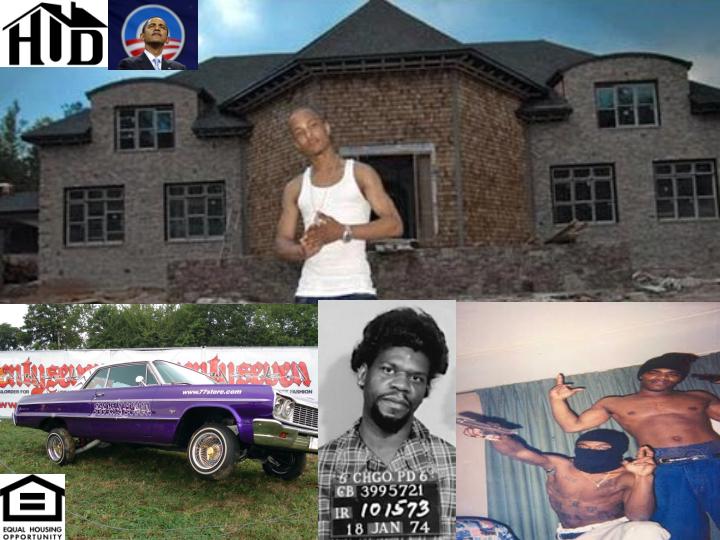 In a move some claim is tantamount to social engineering, the Department of Housing and Urban Development is imposing a new rule that would allow the feds to track 'diversity' in America's neighborhoods and then push policies to change those Obama deems discriminatory. Obama planes to make it easier for those with lower incomes or not working to move into neighborhoods where people have worked hard to build nice neighborhoods that naturally have more amenities and better quality of lives.
Problem with Obama's idea is instead of raising people and neighborhoods up it never fails to bring things down to the once prosperous neighborhoods to a lower level. Not surprised to hear this from this administration which has made it their intention to "even things out".
The disastrous socialist policy is called, "Affirmatively Furthering Fair Housing." It will require HUD to gather data on segregation and discrimination in every single neighborhood and try to remedy it.
HUD Secretary Shaun Donovan unveiled the federal rule at the NAACP convention in July. With Obama's plan nobody wins. The Section 8 Obama folks didn't change their own lifestyles by living in middle class communities, the communities will decay in the process.
"Unfortunately, in too many of our hardest hit communities, no matter how hard a child or her parents work, the life chances of that child, even her lifespan, is determined by the zip code she grows up in. This is simply wrong," Obama said.
Data from his discrimination database would be used with zoning laws, housing finance policy, infrastructure planning and transportation to alleviate alleged discrimination and segregation. A sort of reverse form of redlining.
Specifics of Obama proposed rules are lacking of course. Now published in the Federal Register and undergoing a 60-day comment period, the rule, "does not prescribe or enforce specific" policies.
One critic says it smacks of utopian idealism.
"This is just the latest of a series of attempts by HUD to social engineer the American people," said Ed Pinto, of the American Enterprise Institute. "It started with public housing and urban renewal, which failed spectacularly back in the 50's and 60's. They tried it again in the 90's when they wanted to transform house finance, do away with down payments, and the result was millions of foreclosures and financial collapse."
Some fear the rule will open the floodgates to lawsuits by HUD — a weapon the department has already used in places like Westchester County, N.Y., where mayors and attorneys representing several towns, like Cortlandt, are writing HUD to protest burdensome fair housing mandates that go far beyond those agreed to in a 2009 settlement with HUD.
One letter written by Cortlandt town attorney Thomas Wood expresses a common dilemma.
"Cordlandt is mostly residential and has only a few vacant parcels that could be developed for commercial use," he writes. "In order to stabilize the tax base among the most affordable in Westchester County, the Town Board needs to encourage the development of commercial property for commercial use."
Rob Astorino, the Westchester County Executive recently said, "What they are trying to do is to say discrimination and zoning is the same thing. They are not. Discrimination won't be tolerated. I won't tolerate it. Zoning though, protects what can and can't be built in a neighborhood."
Also troublesome to critics is that the HUD secretary, in announcing this proposed rule, blamed poverty on zip codes – rather than other socio-economic factors that studies have shown contribute to poverty.
We can expect to see people with superior credit and collateral assets being denied mortgages over higher-risk minority mortgage applicants simply because there aren't "enough" (according to some radical-leftist bureaucrats' absurd, subjective agenda) 'diverse' people on a given block or neighborhood.
Then the liberals will again start to influence mortgage acceptances with a preference to higher risk "diverse" applicants, it's going to make the last housing crash look like a half-mile per hour fender-bump. This is the agenda of the radical left Obama officials who will be responsible for advancing these moronic ideas. They are so blinded by hatred for everything that has made this nation great, they'll stop at nothing to try to tear down the status quo, regardless of (or perhaps intentionally to destroy) the wealth created through property values when the property is financed responsibly.
If you don't have a violent street gang in your neighborhood today, Obama will insure that you get one soon, all in the name of diversity and equality! These types of leftist policies have already ruined many safe neighborhoods throughout many United States suburbs, retail values of the homes drop drastically once middle class neighborhoods become crime ridden and unsafe.
Are you going to get off your butts and do something or watch us slip into tyranny and the grand Utopian vision of the Statists and Leftists? — Mark Levin