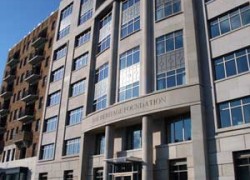 Bill Clark was a devout man of faith, a great patriot and a close friend.  He devoted his life to the service of others and will be remembered for his outstanding contributions to his community and his Country.
Bill served Ronald Reagan for over a quarter of a century as a public official, advisor and friend. From the first Reagan campaign in 1966, through the governorship and the presidency, and later to the building of the Presidential Library, Bill was always at Reagan's side.  He was a key figure in formulating and leading United States foreign policy during the President's administration, and was instrumental in developing the strategy that led to winning the Cold War.
During the 1970s Bill Clark distinguished himself as an excellent judge, serving on the bench of California's Superior Court, Court of Appeal, and Supreme court.  He was widely recognized for his dedication to the Constitution and the rule of law.
Bill loved the outdoors and was a successful rancher and conservationist, which he demonstrated during his exemplary service as Secretary of the Interior.  More recently he has served as Co-Chairman of the Reagan Ranch Board of Governors.
He was devoted to his Church, serving in many ways as an active layman, and built a beautiful chapel on his ranch, where he led services for the Paso Robles community.  His whole life was a visible example of his enduring faith.
Through all his hard work and many accomplishments, Bill was always a devoted family man to his late wife, Joan, and to his five children and many grandchildren. He will be greatly missed by his many friends, and his life is appreciated by so many people who benefited from his kindness to them and from his service to God and our Nation.
Source material can be found at this site.