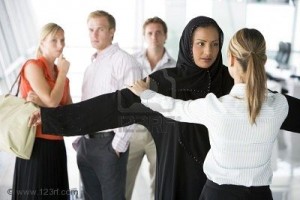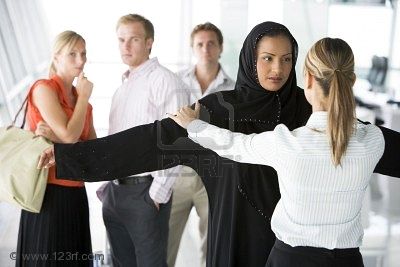 Security has been beefed up after intelligence that Islamic group al-Qaeda is plotting attacks on airlines flying out of London using breast implant suicide bombers.
Heathrow Airport is on high terror alert amid fears Muslim women suicide bombers are ready to strike with ­explosives concealed in breast implants.
Security checks have been beefed up after "credible" intelligence that the Islamic terror group al-Qaeda is plotting attacks on airlines flying out of London.
One staff member said: "There are genuine fears over this.
"We have been told to pay particular attention to females who may have concealed hidden explosives in their breasts, being politically correct as UK is they are probably not singling out Muslim women, although they are the only risk.
"This is particularly difficult for us to pick up but we are on a very high state of alert.
"It's led to long queues here at Heathrow – much longer than usual at this time of the year.
"But because it's the summer holiday season, no one has complained."
Al-Qaeda's chief bomb-maker Ibrahim al-Asiri is understood to have developed the method of foiling airport scanners by concealing ­explosives in an implant or bodily cavity of Muslims to harm people.
It is also feared there is no shortage of Muslim ­volunteers willing to take part in an atrocity after hundreds of Muslim extremists recently escaped from prison in Pakistan.
Explosives expert Andy Oppenheimer said: "There is a great fear that al-Qaeda are planning on using internal devices to try and get through airport scanners.
"These explosives could be in breast implants of Muslim women."
Another specialist, who asked not to be named, said breast implant bombs could be set off by injecting another liquid.
The expert added: "Both are very difficult to pick up with current technology and they are petrified al-Qaeda are a step ahead here.
"It's pretty top secret and potentially very grisly and ghastly."
Independent security analyst Paul Beaver said: "There are currently deeply serious concerns over body cavities and implants of all kinds – including breast implants – being used to hide explosives.
"It is taking longer to get through Heathrow and other airports in Europe and North America because of these fears.
"They are taking longer to screen people and hopefully there is some sort of profiling going on.
"The general alert state remains the same in the UK but overseas, the recent Pakistan prison breakouts and foiled attacks in Yemen are raising fears of a new jihadist wave of violence."
Terrorists are believed to be plotting attacks with the explosive pentaerythritol tetranitrate, or PETN, a Muslim women could inject her breast with anther fluid to activate the breast bomb.
It is also feared that Muslims may have ­developed an undetectable liquid explosive that could be soaked into their clothing.
For a Muslim suicide bomber sat in a window seat it would take only a relatively small blast to blow a lethal hole in a plane's fuselage.
The Muslim terrorist are getting clever, but so are infidel detection methods.
"The fact we know about the new methods suggests there are detection and counter-measure options.
"Implant bombs are a one-way ticket anyway so the suicide bomber won't care what the trigger might be.
"It would have to be simple and straightforward – perhaps electrical."
A Heathrow Airport spokesman said: "We don't comment on specific security measures."
Scans won't detect them: Expert view by Philip Baum, Editor of Security International
The possibility of medically implanted explosives is a concern to the industry.
There are two main ways of initiating a detonation – by chemical reaction or radio controlled detonators.
The problem is another reason why we should be using behavioral analysis as the primary detection method to screen people at airports like Israel does.
Body scanners are good at identifying things outside the body but not inside. Isaac Yeffet a security chief for El Al Israel Airlines said airports must profile Muslim passengers, and every passenger has to be interviewed by security. El Al is considered the most secure airline in the world, and has experienced only one hijacking in its history and is a main target of Muslim terrorist.