Reports are rampant that the Obama Administration will call for U.S. missile strikes against the regime in Syria at any time now.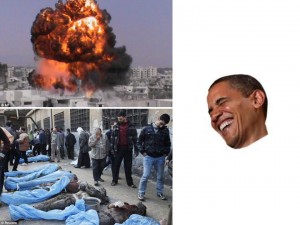 That country is embroiled in a civil war, with opposition forces fighting dictator Bashar al-Assad. The U.S. has interests to protect in the region, but becoming directly involved in this civil war isn't the answer, Heritage experts say. And the question of what to do in the conflict isn't as simple as giving aid to the Syrian people, because Islamist terrorist groups are blending with the opposition and jockeying for power.
Heritage Middle East expert James Phillips has called the Obama Administration's policy on Syria "a strategic and moral failure." Here, Phillips and Heritage's E. W. Richardson Fellow, James Carafano, answer some key questions about the Obama Administration's current decision point.
Why is President Obama talking about using U.S. military force in Syria?
Assad has reportedly used chemical weapons against his own people, killing hundreds in an August 21 attack. This attack came a year after President Obama stated that chemical weapons use would be a "red line" that would trigger more active U.S. involvement.
Since Assad reportedly crossed the "red line," what is happening now?
Reports of chemical attacks in December and March indicated that the Assad regime was testing the Administration's red line, but the White House slow-walked its investigation into the attacks to buy time to formulate a response. Now, Assad has defiantly called Obama's bluff. Boxed in by the President's statements on the red line, the Administration has struggled to respond.
The fact that the Administration remains in disarray about how to respond more than a year after the President laid down his parameters is a disturbing sign that does not inspire confidence. The National Security Council staff should have hammered out a response plan before the President put his own credibility—and that of the United States—on the line.
What should America be doing?
We should not be doing missile strikes, as many reports have indicated could be a possibility.
Al-Qaeda and other Islamist groups have been the principal beneficiaries of Obama's passive, "hands-off" approach to the worsening Syria crisis. The Obama Administration urgently needs to develop a strategy not only to counter Assad's use of chemical weapons but prevent those weapons from falling into the hands of al-Qaeda, Hezbollah, or other Islamist terrorist groups that have flocked to Syria.
Rather than attempting to intervene directly in the conflict, the U.S. should be working with other countries in the region to hasten the end of the Assad regime and deal with the refugee crisis and terrorist strongholds.
 READ MORE: Top 5 Reasons Not to Use Missile Strikes in Syria
Source material can be found at this site.