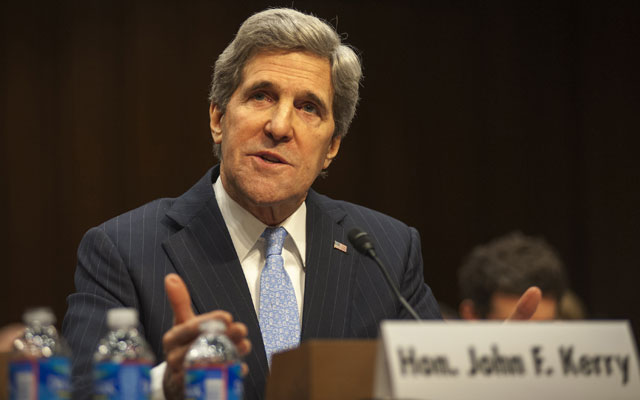 Secretary of State John Kerry finally broke the silence of the U.S. government on the fate of Christian pastor Saeed Abedini and two other Americans imprisoned in Iran.
Until now, the silence of the U.S. government on the fate of U.S. citizens has been deafening. But Kerry's statement could charitably be described as timid. There are many other ways to describe it as well.
Kerry said that the United States "respectfully asks the government of the Islamic Republic of Iran to work cooperatively with us in our efforts to help U.S. citizens Robert Levinson, Amir Hekmati, and Saeed Abedini to return to their families after lengthy detentions."
This is not likely to happen, as the Iranian court of appeals this week confirmed the eight-year sentence handed down in January to American pastor Saeed Abedini. Abedini was sentenced for endangering national security, but supporters say he was there to open an orphanage—with the permission of the Iranian government.
It has taken a lot of pressure even to get Kerry to this point, including from the Reverend Franklin Graham and Members of Congress. In March, the State Department released another mild-mannered statement saying that the "best outcome for Mr. Abedini is that he be immediately released."
The President of the United States himself has not had a word to say on behalf of the imprisoned American citizen. Naghmeh Abedini, the pastor's wife, last week expressed her bitter disappointment with the failure of the U.S. government to stand up for her husband.
"The news out of Iran is devastating to our family," Mrs. Abedini, who now lives in Idaho with the couple's two children, said in a statement released by the American Center for Law and Justice. The statement continued:
My husband is serving eight years in the notorious Evin prison and facing daily threats and abuse by radicals because he refuses to deny his Christian faith. And yet, my president, President Obama, has not spoken a word about him. I am extremely disappointed that President Obama has chosen to remain silent on this critical human and religious rights case of an American imprisoned in Iran.
The U.S. has a strong tradition of standing up for political and religious dissidents. Whether the reason for the U.S. silence is that this tradition is broken or the Administration's generally floundering Middle East policy, this is for sure: We can and should do better.
Source material can be found at this site.