Some congressional leaders have a shocking new strategy to force through a farm bill at any cost. They are threatening to allow the price of milk to double as a way to compel both the House and Senate to pass any bill.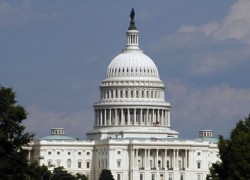 This new strategy is reportedly the brainchild of the ranking member of the House Agriculture Committee, Representative Collin Peterson (D–MN). He has stated that this strategy has the backing of House Minority Leader Nancy Pelosi (D–CA).
If a new farm bill or an extension isn't passed by the end of this year, the law would revert to a 1949 law, which would send milk prices skyrocketing to about $39 per 100 pounds of milk. Peterson sees this "dairy cliff" as a way to get any farm bill passed:
The first thing that happens of any consequence is Jan. 1 on dairy. So if [Agriculture Secretary Tom Vilsack] starts the process [of implementing the 1949 law on October 1] then we can be ready to have $39 milk Jan. 1.… And then I think, within two or three weeks, we'll probably have a farm bill.
Extension, Not Political Games
Peterson and Pelosi may think that getting any farm bill through, regardless of how costly and irresponsible, is the right move. They appear to be willing to go to extremes to get their way. However, sound policy should be the primary objective.
Certainly, children and the poor shouldn't be pawns in a political game to push through a farm bill based on the House and Senate farm bills that are loaded with new and costly subsidies. An extension of the farm bill would quash this fear-mongering.
An extension would allow Congress to work out the many issues that still need to be resolved, including developing a free-market dairy policy. This extension can avoid a dairy cliff and protect the poor from avoidable harms that would be caused by Congress.
Background on the Dairy Cliff
If a new farm bill or an extension isn't passed by the end of this year, a dairy cliff would occur on January 1, 2014. This is precisely what could have happened last year, but Congress extended the farm bill on January 1, 2013 so that milk prices would not double. By not taking action to avert a dairy cliff, outdated 1949 law would kick in, which would double milk prices. As described by the Congressional Research Service:
Milk is supported currently, and in permanent law [the 1949 law], by compelling USDA to purchase manufactured dairy products (nonfat dry milk, cheddar cheese, and butter) in sufficient quantities to raise demand in order to raise the farm price of milk to the desired support level (the Dairy Product Price Support Program). Under permanent law [the 1949 law], those purchase prices (based on December 2012 data) would be nearly four times as high as currently supported and double recent market prices.
Driving Up Food Prices at the Expense of the Poor and Children
When the House considered the agriculture-only farm bill in July, with the intent to consider food stamps in a separate bill, Pelosi and her colleagues made misleading claims about how the bill would make poor people hungry, "You are taking food out of the mouths of your own poor constituents," she said. Yet she and Peterson are now seeking to allow the price of milk to double. Higher food prices have a disproportionate effect on the poor because a greater share of their income goes to food
This irresponsible action would harm not just the poor but also children who need affordable milk; milk is a very important part of a child's diet. Further, those like Pelosi who complain about making even common-sense reforms to food stamps would be making it more difficult to buy food with food stamps.
Source material can be found at this site.