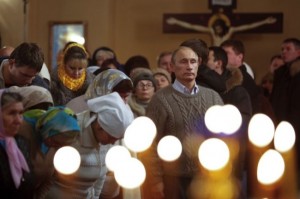 Socialist and Liberals alike hate Putin because he promotes free enterprise.
"In the 20th century, the Soviet Union made the state's role absolute. In the long run, this made the Soviet economy totally uncompetitive. This lesson cost us dearly. I am sure nobody wants to see it repeated." – Vladimir Putin
Liberals hate Putin because HE OPPOSES PUBLIC DEBT AND RECKLESS MONEY PRINTING. 
 "The unjustified swelling of the budgetary deficit and the accumulation of public debts are just as destructive as adventurous stock-jobbing." – Vladimir Putin
 "Look at their (America's) trade balance, their debt, and budget. They turn on the printing press and flood  the whole world with government bonds. There is no way we will act this way…. We don't have the luxury of such hooliganism." -Vladimir Putin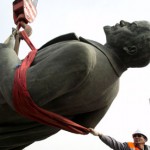 Communist do not like Putin because the new Anti-Communist Russian lawmakers are  destroying all statues of Lenin.
Atheist hate Putin because he defends Christianity. (and other religions)
"This holiday (Easter) shows just how important national traditions and spiritual values are for our people. The state will continue to provide all possible support to the Church aimed at the enlightenment and moral education of Russian citizens."
-Vladimir Putin (Speech at Christ the Savior Cathedral, 2008)
.
"Orthodox Christianity has always played a special role in shaping our statehood, our culture, our morals. The Church may be seperate from the State. But in the soul and history of our people, it is all together. It always has been and always will be." – Vladimir Putin
Degenerates (not Ellen) hate Putin because he has instituted Compulsory Morality and Ethics Education.
"In order for Russia to be a strong and sovereign country, there must be more of us and we must be better in morality, in our competences, our work and our creativity." -Vladimir Putin
Militant Homosexuals hate Putin because Russia protects its Children and the traditional family, Russia has banned "GAY" pride parades for 100 years.
Leftist Feminist hate Putin because he defends the unborn.
Anti-Family liberals hate Putin because Russia now has a growing birth rate.(The US & Europe have declining birth rates!)
"We are determined to use any means to strengthen positive demographic tendencies (birth rates). …We need to to save the people of Russia." -Vladimir Putin
.
"It is important that families make that step (of having a third child). I am convinced that the norm in Russia should become a family with three children." -Vladimir Putin
Liberals hate Putin because he is against Obama radicalizing the Middle East and offered a peaceful resolution to the Syrian crisis overs Obama rush to war.
Globalist hate Putin because he is against a one world government.
"Some people are constantly insisting on the necessity to divide up our country and are trying to spread this theory. …There are those who would like to build a unipolar world, who would themselves like to rule all of humanity." -Vladimir Putin
There is a reason 70% of the Russian love Putin, these are facts the American media will never tell you about Vladimir Putin. Putin is not perfect, far from it! But he is much better than the clown sitting in the Whitehouse right now!