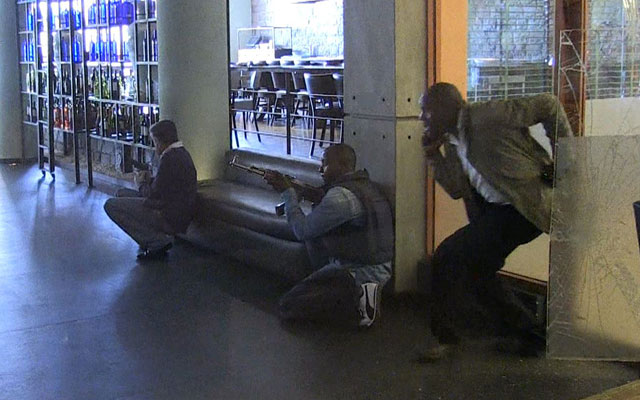 A high-end Mall in the Westlands suburb of Nairobi was attacked by armed gunmen on Saturday afternoon. Al-Shabaab, the al-Qaeda linked group based in Somalia, is claiming responsibility for the attack at the Westgate Shopping Centre, a popular expatriate hangout. More than 30 people are reported to have been killed by the Somali militants more than 100 others injured. Authorities are claiming at least 36 hostages are still being held inside the mall.
Kenya has come under reprisal attacks from al-Shabaab over the past two years, following the deployment of Kenyan military personnel into Southern Somalia to remove the terrorist group from Somali-Kenyan borderlands.
Al-Shabaab is claiming via its Twitter account that "What Kenyans are witnessing at #Westgate is retributive justice for crimes committed by their military, albeit largely miniscule in nature."
Kenya's security and economy has suffered as a result of al-Shabaab's militant activities, which have included the group's piracy operations in the horn of Africa that have severely disrupted the flow of commerce into Kenya. Frequent kidnappings of western tourists and the string of terrorist attacks in Kenya's major cities, including Mombassa and Nairobi, have also significantly impacted the country's tourism industry.
Saturday's Westgate mall attack highlights just how vulnerable the security situation in East Africa remains and the vigilance that is required to address the threat posed by global terrorism. In 2010, Uganda fell victim to a large-scale bombing in Kampala by al-Shabaab when more than 70 people were killed at a World Cup game screening. Following the attack, the group called for Uganda to remove its troops from the peacekeeping mission in Somalia. As a result of Kenya's military engagement, significant gains have been made against al-Shabaab in recent months in Somalia, yet the group's shift to a centralized operational approach poses a new challenge to fighting the group amongst the ordinary Somali civilian population.
Source material can be found at this site.