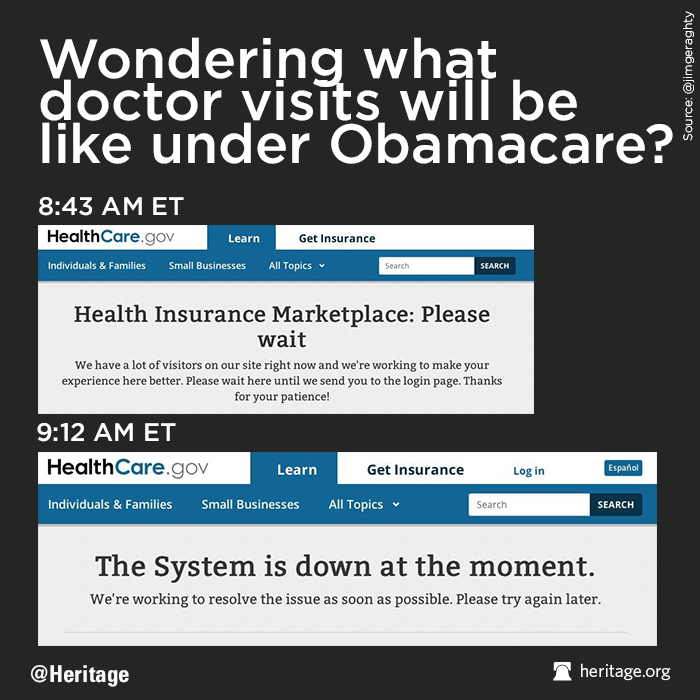 Yesterday marked the grand opening of the new Obamacare health insurance marketplaces, and the rollout did not go smoothly. Even more worrying is that these website errors are only the tip of the iceberg.
Just a few weeks ago, Members of Congress and several experts challenged the Department of Health and Human Services (HHS) for not examining critical security designs or fully vetting the integrity of the HHS hub that connects the exchanges with various government agencies such as the IRS and Social Security Administration. They asked how the hub could be allowed to open if basic security tests and assessments were not completed and reviewed.
Ultimately, the HHS inspector general could do little more than say, "We've got to cut off our work at a certain point"—even if that point leaves the hub vulnerable to cyber attack.
While the hub does not directly store information, it connects to other government databases that contain sensitive financial, medical, and other personal records. If the hub were compromised by a hacker, information regarding income, citizenship status, Social Security numbers, or other details could be ascertained and used to alter records or engage in identity theft.
Of course, every state exchange is facing its own cybersecurity issues. Minnesota's exchange accidently released the private information of 2,400 individuals in September—before the mass sign-ups even began.
Additionally, thousands of federal and state officials and Obamacare "navigators" will have access to Americans' information, all but guaranteeing that personal information will be mishandled. Even worse, federal guidelines do not require navigators to pass a background check and call for only 20 hours of training before granting navigators access to personal information.
These will not be the last of the government's Obamacare cyber troubles, either. The government's cybersecurity woes have been well-documented by Heritage, and the issues with the Obamacare exchanges are merely continuing this troubling trend.
The cyber risks in the Obamacare exchanges endanger Americans by making them more susceptible to identity theft, insurance fraud, and other crimes. Add to that a whole host of other Obamacare failures, delays, special exemptions, broken promises, and unintended consequences, and it is clear why this law is bad for Americans. Congress shouldn't waste another dime to implement this broken and harmful law.
Source material can be found at this site.