If attacks on Egyptian soldiers in the Sinai Peninsula continue, Egypt may carry out airstrikes in Gaza, senior Egyptian officers have warned.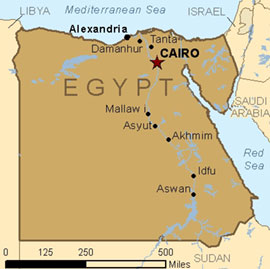 Egyptian officers told the Bethlehem-based Maan news that Egyptian planes had entered Gaza airspace to study potential targets in Rafah and Khan Younis, near the southern border.
They said the military would also consider targeting vehicles bringing goods across the border. "All options are open," they warned.
Egyptian commanders say some of the attacks in Sinai are being carried out by terrorist groups based in Gaza. Among the groups they named is Ansar al-Sunna, which has ties to Hamas.
The Sinai has become a hotbed of terrorist activity since the overthrow of President Mohamed Morsi by General Abdel Fattah el Sisi in July. Since then the army has been cracking down on Morsi's Muslim Brotherhood, trying to undo its grip on some parts of the country.
A torrent of attacks by gangs of Al Qaeda-inspired Islamic terrorists have killed over 100 Egyptian soldiers and policemen since Morsi's overthrow. At least one group in the region has officially declared loyalty to Al Qaeda, bringing the group's influence to Israel's southern border.
Egypt is currently conducting a large-scale campaign to retake control of the Sinai region. As part of the campaign, the army has taken several steps that have put pressure on Hamas, including destroying many of the smuggling tunnels between Gaza and Egypt and shutting down the border.
An Egyptian officer echoed Israeli commanders, presumably unintentionally, telling Maan that Egypt does not blame Gaza civilians – but that Hamas must control terrorist groups within its domain.
"The Egyptian army does not believe the population of Gaza is involved in the violence in Sinai, but certain factions strongly support Sinai groups… In addition, Hamas, although its involvement is limited, is responsible for maintaining control of the smuggling tunnels as well as the factions operating in the coastal enclave," he said.
Source material can be found at this site.