Israel was among those who warned Kenya's government of the high risk of an attack before the deadly assault on a Nairobi mall by Islamist terrorists, security sources have told the AFP news agency.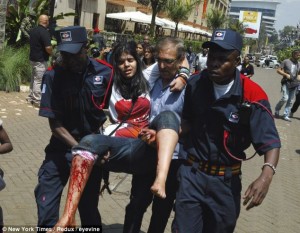 Cabinet ministers and Kenya's army chief had received information warning of a plan to carry out a major attack, the officials told the news agency, confirming an intelligence report leaked in Kenyan newspapers.
"Israel had warned of attacks on their business interests but apart from just being tossed from one office to another, nothing was taken out of the intelligence reports," said one official speaking on condition of anonymity.
On September 21, terrorists with automatic weapons and grenades burst into the upscale Westgate mall in Nairobi in an attack that lasted four days and left at least 67 dead.
It was claimed by Somalia's Al-Qaeda-linked Al-Shabaab group as retaliation for Kenya's military presence in Somalia.
The Nation newspaper said the treasury, interior, foreign affairs and defense ministers, as well as the army chief, had been told of an elevated risk.
"Briefs were made to them of increasing threat of terrorism and of plans to launch simultaneous attacks in Nairobi and Mombasa around September 13 and 20, 2013," according to the report quoted in the paper.
The report said that Israel, which has close security ties with Kenya, had warned of plans to attack Israeli property in September.
The Westgate mall, popular with expatriates and wealthy Kenyans, is part owned by Israelis and had long been considered a prime potential target, according to AFP.
"The Israeli embassy in Nairobi has raised concern with the foreign affairs ministry that Iran and Hezbollah from Lebanon have been collecting operational intelligence and open interests in Israeli and Jewish targets around the world including Kenya," the report said.
According to security sources, Israeli services are playing a lead role in the ongoing investigation into the attack, which saw the terrorists storm the mall and spray bullets on shoppers before hunkering down to fight off special forces for three days.
The head of Kenya's National Intelligence Service, Michael Gichangi, is scheduled to be grilled by lawmakers on Monday amid growing public concern that the state was inadequately prepared.
Security officials said Kenya's security agencies were casual in their response.
"There is no way one can say there was no intelligence on this attack because those reports started trickling in from late last year. And they were specific with targets including Westgate," one of them told AFP.
"Whenever these reports come, they are shared all across the government with relevant authorities at high levels, but they still take them casually.
"They must learn a lesson from this (attack) and start to take matters seriously, " said the official.
via israelnn.com