While our president still enjoys his essential employees and locations: the White House chefs, Camp David, and a military golf course, there doesn't seem to be any question that in mercenary pursuit of a political win, this White House is determined to unreasonably punish as many everyday people as possible. And this includes children sick with cancer. That might sound like hyperbole, but it is not.
Although Barack Obama's chefs have been deemed "essential," employees at the National Institutes of Health who offer last-chance experimental cancer treatments for children suffering from cancer have not. Worse still, House Republicans have offered to compromise with the president and single the NIH out for funding. The White House has threatened a veto.
Using children sick with cancer as pawns is community organizing on steroids. And the media are covering for him. When the media thought they could emotionally blackmail the GOP with these sick children, telling their story was all the rage. Now that it is Obama and Senate Democrats wrist-flicking refusing treatment for these children, suddenly the media aren't too interested in telling their story.
There are many other examples of this president's cold-hearted fanaticism and willingness to punish people for reasons that seem to have much more to with spite than what is and is not "essential." In fact, there are a number of examples where Obama seems to be spending more money and using more resources to close and block and inconvenience than to just leave it alone.
The media may or may not report on these individual occurrences, but what they will never do is provide the American people with the full context and scope of Obama's shrill pettiness.
Below is a list of illogical, unnecessary, and shockingly spiteful moves our government is making in the name of essential and non-essential.
—
1. Treatments for Children Suffering From Cancer – The GOP have agreed to a compromise by funding part of the government, including the National Institutes of Health, which offers children with cancer last-chance experimental treatment. Obama has threatened to veto this funding.
2. The World War II Memorial – The WWII memorial on the DC Mall is a 24/7 open-air memorial that is not regularly staffed. Although the White House must have known that WWII veterans in their eighties and nineties had already booked flights to visit this memorial, the White House still found the resources to spitefully barricade the attraction.
The Republican National Committee has offered to cover any costs required to keep the memorial open. The White House refused. Moreover, like the NIH, the GOP will pass a compromise bill that would fund America's national parks. Obama has threatened to veto that bill.
3. Furloughed Military Chaplains Not Allowed to Work for Free – Furloughed military chaplains willing to celebrate Mass and baptisms for free have been told they will be punished for doing so.
4. Business Stops In Florida Keys – Although the GOP have agreed to compromise in the ongoing budget stalemate and fund the parks, Obama has threatened to veto that funding. As a result, small businesses, hunters, and commercial fisherman can't practice their trade. While the feds have deemed the personnel necessary to keep this area open "non-essential," the "enforcement officers" to ensure no business is done are "essential."
5. Obama Blacks Out Sports, Entertainment Programming to Overseas Troops – The American Forces Network (AFN) that provides American sports and entertainment programming to our troops stationed abroad, has been shut down. For some reason, though, AFN News will still broadcast news, just not any of the popular and fun stuff.
Camp David is essential, but popular programming for heroes overseas is non-essential.
6. Obama Closes D-Day Memorial – The GOP have offered to compromise and fund the National Parks. Obama has said he will veto this compromise legislation. As a result, along with 24 other military cemeteries, the D-Day memorial in Normandy has been barricaded.
7. Obama Tries to Close Privately-Funded Mt. Vernon – Although George Washington's Mt. Vernon estate is privately funded, the feds blocked visitors from entering the parking area because the Park Service maintains the lot. Apparently, the New Media publicity resulted in the feds backing down.
8. Obama Closes Over 100 Privately-Managed Parks That Cost No Money to Run –  The U.S. Treasury actually makes money from the rent paid by a private company that "employs about 400-500 camp workers and managers across about a dozen states." No federal money is used to operate these parks. No federal employees are used to staff these parks. Taxpayers make a profit from these parks. Still, Obama had them closed and as a result 400-500 employees and a private business are taking it in the neck.
9. Obama Closes Self-Sustaining Colonial Farm It Hasn't Supported Since 1980 – "For the first time in 40 years, the National Park Service (NPS) has finally succeeded in closing the Farm down to the public. In previous budget dramas, the Farm has always been exempted since the NPS provides no staff or resources to operate the Farm."
10. Obama Tries to Close State-Run Parks in Wisconsin – "The park service ordered state officials to close the northern unit of the Kettle Moraine, Devil's Lake, and Interstate state parks and the state-owned portion of the Horicon Marsh, but state authorities rebuffed the request because the lion's share of the funding came from state, not federal coffers."
11. Obama Closes Vietnam Memorial – The GOP have passed compromise legislation that would fund national memorials and parks, and open them to the public. Obama threatened a veto. Apparently, the "essential" government employees are those erecting barricades, not those who could keep the memorial open.
12. Obama Closes Privately-Owned Hotel, Police Block Parking Lot – "The operator of a 51-room inn located on U.S. government-owned land in North Carolina abandoned his defiant stance on Thursday to keep the property open despite being ordered to close as part of the federal government shutdown."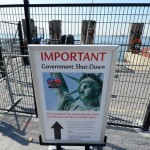 October is this inn's prime season. The GOP have offered compromise funding opening the parks. Obama said he will veto that compromise.
State troopers blocked customers from entering the inn's parking lot.
13. Park Service Ranger: 'We've Been Told to Make Life As Difficult For People As We Can' – "It's a cheap way to deal with the situation," an angry Park Service ranger in Washington says of the harassment. "We've been told to make life as difficult for people as we can. It's disgusting."