WE NEED TO SEND MORE VETERANS TO WASHINGTON
REPLACE RINO MITCH McCONNELL
HELP ENSURE MATT WINS
Join the Fight to Primary and RETIRE Mitch McConnell!
Just as our veterans marched on Washington this past weekend to take on the Obama administration by tearing down his punitive "punish the people" barricades, we must send veterans marching on Capitol Hill to take on the Harry Reid Democrats doing Barack Obama's dirty-work, starting with Senate Minority Leader Mitch McConnell!
Conservative talk radio host Mark Levin calls "awful" McConnell "more of a schemer" than Boehner… He says – and we agree – that current GOP leadership will never fiercely fight to defeat ObamaCare and advance true conservatism.
Fact is, without replacing "leader" Mitch McConnell we can send all the grassroots conservatives to the Senate, all our efforts that challenge the Old Guard grasp on power WILL BE BLOCKED no matter the cost to our country or to our liberty as citizens.
To do this, we must start building the war chest necessary to make it happen!
We are already hearing rumors of a "pro-business" strategy by Republican establishment to replace our Tea Party conservatives with crony capitalists that will "play nice"…
HELP THE TEA PARTY RETIRE FAKE CONSERVATIVE MITCH McCONNELL!
Mitch McConnell's utter lack of genuine, constitutional convictions– his conservatism that dissipates AFTER every election only to re-emerge when he begins a new campaign – and others like him on Capitol Hill have helped get us into this mess.
IT IS UP TO US TO GET OURSELVES OUT OF IT!
The RINOs, the Old Guard, the Vichy Republicans must be REPLACED this election cycle if we're to have any chance of saving this country and restoring sanity and conservatism to the federal government run amok.
By now it's obvious why the Democrats are cheering on Senate Minority Leader Mitch McConnell in the Kentucky GOP Primary. They see him as an easier opponent in 2014 – and quite frankly, he is.
Their best case scenario is that McConnell wins the primary, they win the seat. And if, with all his fat-cat Establishment pull Mitch McConnell manages to win the seat again, well, no big deal they say BECAUSE HE CAVES TO GIVE THEM WHATEVER THEY WANT IN WASHINGTON!
Time and time again, wobbly, weak-willed Mitch McConnell has catered to Obama and Harry Reid in spite of the constituents who put him in office AND national leadership role in the Senate with which he has been entrusted!
ObamaCare, amnesty, debt ceiling hikes and gun control are just a few of the most recent issues of in-party AND national betrayal by this Republican "leader." Democrats are just keeping their fingers crossed that Army vet, successful businessman and civic leader Matt Bevin does their heavy lifting this round by beating up McConnell in the GOP primary with his own shameful record, but getting sabotaged by the Republican Establishment and failing to prevail over McConnell – and thus ultimately handing the coveted Senate seat to the Democrats in November 2014.
WE MUST NOT LET THAT HAPPEN!
HELP RETIRE MITCH McCONNELL AND TAKE BACK THIS SENATE SEAT FOR A TRUE CONSERVATIVE – DON'T LET THE DEMOCRATS SIT BACK AND WATCH THE FAT CAT GOP TAKE DOWN ANOTHER TEA PARTY CONSTITUTIONALIST BEFORE CLAIMING FINAL VICTORY IN 2014!
It was a win-win for the Dems… until Matt Bevin entered the arena.
"Democrats better pray that Bevin wounds him and doesn't beat him," said Jimmy Cauley, a Kentucky-based Democratic strategist. He thinks Kentucky Secretary of State Alison Lundergan Grimes, the expected Democratic nominee, is better off facing McConnell.
"A wounded McConnell can be beat" in a state that often goes Republican, he explained "Democrats might not beat Bevin. I think they have a shot at McConnell."
And he's right… Internal polling from the Democratic Senatorial Campaign Committee (DSCC) reveals that McConnell is the most vulnerable Republican incumbent with the disapproval of a staggering 62 percent of Kentucky voters throwing the door WIDE OPEN to a Tea Party victory – IF WE SEIZE THIS OPPORTUNITY AND SUPPORT MATT BEVIN TO THE HILT!
While The Hill reports that the Washington beltway crowd – at least on the Left side of the aisle – is doing some of the heavy lifting trying to force McConnell to defend his dismal record, Matt Bevin is running hard on the issues while facing his biggest obstacle yet:
Raising enough money to take on Mitch McConnell and his $9.6 million war chest.
Already, we're hearing wealthy Kentucky donors and Washington special interests are shying away from supporting Bevin at this early stage… they don't want to offend the powerful and well-connected Mitch McConnell.
That means, like every other Tea Party battle, this is a GRASSROOTS FIGHT.
Strategists say that to compete with McConnell and WIN, Bevin must raise between $4-5 MILLION.
Though a self-made successful businessman, Bevin is not THAT kind of wealthy to do this on his own. And even if he was… he doesn't think it is right to "buy" a Senate seat.
Bevin thinks it should be up to YOU and me to join with him in weeding out the conservative imposters – and we AGREE! Grassroots conservative voters MUST put our money behind our convictions, and direct our donations accordingly.
Embedded in Washington for three decades, McConnell has no such qualms – he takes the money and struts around like rooster Foghorn Leghorn… with a whole lot of crowing about what he will do, but very little to show for it!
"This is David versus Goliath. Bevin is a huge underdog," said Matt Hoskins, executive director of the Senate Conservatives Fund, which has expressed interest in backing Bevin. "I think he's going to have to nationalize the race. I don't see how he gets the money to get his message out without nationalizing the race."
Hoskins said Bevin must show that he is able to unify Kentucky's conservative grassroots behind him before he is going to get any help from Washington…
"There's only so much money in Kentucky, and in order for Bevin to get his message out, he's going to have to get help from people all across the country," he said.
This is where WE can make up the difference – but we must hurry!
U.S. Senator Mitch McConnell (R-KY) has negotiated three major deals with Obama to (1) raise the debt limit, (2) increase taxes, and (3) fund ObamaCare. All three are DISASTERS for American taxpayers. Now it is likely he will help the Vichy RINOs in Congress broker a fourth deal with Obama to grant amnesty and American citizenship to illegal immigrants… McConnell is BAD for the country and MUST GO!
But McConnell knows he is facing a fierce and formidable challenger in Matt Bevin – and McConnell is going to pull out all the stops to knock out this upstart and diminish the voice of patriots and Tea Party activists who understand how critical and FIGHTING SENATE is to the survival and renewal of our republic!
McConnell is already on the attack – falsely belittling this self-made, successful businessman as "Bailout Bevin" in the hopes that the ridiculous try at defamation will stick. And that nobody will recall that it was 28-year Senate veteran master manipulator Mitch McConnell who WROTE AND PASSED the Big Government's $700 BILLION TARP bailout – DEFYING THE CONSERVATIVE WING OF THE GOP!
What a LIAR! We must push back WITH THE WHOLE TRUTH about Mitch McConnell's DISHONESTY and FAILED incumbency before Matt Bevin's candidacy is buried in lies.
From the Congressional Quarterly:
The Senate's top Democrat and Republican saved the 2008 financial industry bailout with a maneuver that only two confident insiders would dare propose. Although the House had rejected the $700 billion package amid complaints that it was too large, the Senate leaders made it even bigger.

Majority Leader Harry Reid and Minority Leader Mitch McConnell added $150 billion in tax breaks for individuals and businesses and a boost in mental health coverage, sweeteners that enticed the House to clear the package the second time around. The gambit headed off what then-Treasury Secretary Henry M. Paulson Jr. said would have been an economic catastrophe.
The wheeling-dealing, porkster McConnell called this shameful, unprincipled vote on his gerrymandered bailout bill "one of the finest moments in the Senate"…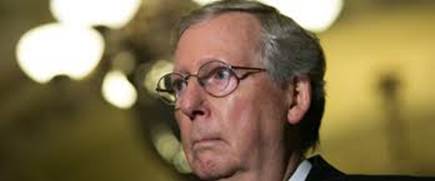 Now, McConnell has the unmitigated gall to attack Matt Bevin for a state grant of assistance to aid in rebuilding when his bell plant was hit by lightening and burned to the ground! "Bevin's company failed to pay taxes, then got a taxpayer bailout," McConnell's six-figure campaign ad says. "Bailout Bevin: Not a Kentucky conservative."
The ad, of course doesn't mention, that the tax debt was inherited by Matt when he took over the Connecticut-based company from his uncle. Nor does it disclose how Matt promptly turned the company's fortunes around and PAID ALL THE TAX ARREARS IN FULL!
McConnell's immediate attack on Matt – the attack of a smooth, sly Washington establishment insider on a little-known primary opponent – is unusual to say the least.
That's because Mitch McConnell knows the jig is up on his lying, fool-the-voter scam as a "conservative" Republican!
McConnell has been caught time and time again, promising us one thing every election year, only to vote with Harry Reid and Obama…
Let's compare the "conservative" candidates:
AMNESTY

McConnell voted FOR AMNESTY in 1986 and 2006; he let Harry Reid's odious amnesty-for-all S. 744 sail through the U.S. Senate earlier this summer.

Matt doesn't support amnesty and will fight for secure borders.

BAILOUTS

McConnell masterminded and manipulated the Wall Street, Fannie Mae and Freddie Mac bailouts right onto backs of American taxpayers.

Matt says "NO" to special-interest bailouts that benefit big business at YOUR expense.

DEBT CEILING

McConnell in 16 years has voted to increase the debt limit 9 TIMES.

Matt says Congress should balance the budget. PERIOD.

SPENDING PROBLEM

McConnell would rather increase taxes on 80% of Kentuckians than cut spending.

Matt opposes tax increases and believes the federal government has a spending problem – not a revenue problem.

SIZE AND SCOPE OF GOVERNMENT

McConnell says one thing about the evils of big government, but votes according to the principle of "the bigger, the better" – he voted for No Child Left Behind, Medicare Part D and the '07 energy bill raising our taxes and expensive eco-regulations on automakers that was later proven to be based on the EPA's own junk science studies.

Matt believes the federal government is out of control, and people should govern themselves at the local level, not be ruled by Washington elites.

McConnell loves to raise his salary.

Matt opposes ALL pay increases for Congress.

PORK

McConnell likes his bills fat and smelling like bacon. He has repeatedly opposed a ban on earmarks or even cutting funding for projects like the Bridge to Nowhere.

Matt wants a permanent ban on earmarks.
"I'm interested in choice," said Bullitt County voter Nancy Jenkins, who was at Bevin's recent Louisville event, "I know Mitch McConnell's record, "she said, "and I don't always agree with him."
AND WHAT CONSERVATIVE COULD… BECAUSE MITCH MCCONNELL IS ONLY A 'CONVENIENT' CONSERVATIVE AT BEST – AND THAT'S WHEN IT'S ELECTION TIME!
How establishment is McConnell? Right now, Mitch McConnell is actively working AGAINST Tea Party conservative colleagues Mike Lee and Ted Cruz in their fight to defund ObamaCare! But his duplicity knows NO bounds. As a precaution against any critics (like US), he has signed Ted Cruz's bill to "repeal" ObamaCare when the only IMMEDIATE PATH to killing it, and the most likely path to ultimate victory is through DEFUNDING IT RIGHT NOW.
"Kentuckians deserve a conservative leader in the Senate instead of one who slings mud and misleads the public," Matt said in a statement. "It's sad really that a 30-year senator can't run on his record, but has to lie about mine."
He's right – MITCH MCCONNELL SHOULD BE RUNNING ON HIS RECORD AFTER 28 YEARS IN OFFICE… BUT HE CAN'T! BECAUSE HIS RECORD IS A SLY, SLIPPERY DISGRACE OF LETTING HIS STATE, AND OUR NATION, DOWN!
Like Harry Reid said, McConnell 'tried to make love to the tea party'…
And he's still trying.
But his wooing is false, and has NO substance behind it.
Shamefully, instead of pointing to conservative accomplishments of his own (he can't), McConnell is trying to convince Kentuckians that Matt is an East Coast outsider having only moved to Kentucky 14 YEARS AGO – a timeframe LONGER THAN THE SENATE'S PROPOSED "PATHWAY TO CITIZENSHIP" – which McConnell continues to slyly champion!
In fact, Kentucky is where Matt Bevin and his lovely wife, Glenna, have raised nine – that is 9 – children, four of whom they adopted from Ethiopia.
And it has been, since Matt's military service, where Matt settled professionally and has based his philanthropic giving and personal service that stretches from his hometown of Louisville to the far corners of the globe.
This has involved serving on numerous non-profit boards, including as chairman of the board of the American Red Cross, Louisville Area Chapter. Matt has permanently endowed various scholarship funds, grants and centers that offer educational opportunities for young people in the U.S. with limited financial resources.
Matt has also been heavily involved in building infrastructure projects for the benefit of orphans in India and Africa. Matt Bevin is a man who "walks the walk" not just talks the talk. Yet, despite his exemplary record of civic service and public spiritedness, Matt lacks McConnell's name ID, and out of gate Mitch McConnell is leading Matt by almost 40 points and his Democratic opponent, Secretary of State Alison Lundergran Grimes, by 8 points.
WE CAN TURN THIS AROUND, BUT WE MUST START NOW!
This fight for true conservative leadership is only beginning… With nearly 10 months of campaigning to go to the primary – and with two-thirds of voters indicating that they don't have an opinion on this Army vet and successful businessman because they simply do not know enough about him – but with a very vulnerable, weak McConnell based on his record, there are real prospects for a CONSERVATIVE VICTORY!
That same poll when looking at the Republican primary revealed 27 percent said they could change their mind and 15 percent said they are "very open" to changing their mind.
We are CERTAIN if Matt wins the primary he will beat Grimes bigger than McConnell could ever dream of doing!
We just have to get the FACTS out to the undecided voters and pushback against Mitch McConnell's negative ad attacks!
U.S. Sen. Rand Paul who had originally endorsed McConnell and discouraged a Tea Party challenge is now open-minded.
"I'm not giving him encouragement or discouragement, I mean, it's a free country and anyone who wants to run can," said Paul, though whether it's because he's as fed up with McConnell's "leadership" as we are or impressed by the strong Tea Party credentials of Matt Bevin we're not yet sure.
"It's not about what's best for us here in Kentucky it's about him (McConnell) and keeping his big cushy office in Washington D.C., he will spend crazy amounts of money to do that," Matt said.
And it's true.
As Senate Minority Leader, McConnell is sitting on a cash-cow to finance his campaign. That's why this fight must begin with the grass roots and end at the polls – Kentucky voters need to learn who the full-time conservative is, not just a posing, posturing, 'convenient' conservative come election time… and that's a fight with the facts.
Please, YOUR SUPPORT for TRUE CONSERVATIVES LIKE MATT BEVIN for Senate is absolutely vital in this critical election year where we have the chance to take back the upper chamber and break the Harry Reid-Barack Obama chokehold on our government!
But we can ONLY do it with REAL, CONSTITUTIONALLY-COMMITTED, TEA PARTY CONSERVATIVES!
HELP THE TEA PARTY RETIRE FAKE CONSERVATIVE MITCH McCONNELL!
Keep Faith,
Alan Keyes