Young people in 45 states will see their health insurance premiums increase under Obamacare because the law relies on the money they pay into the system to offset the cost of caring for older enrollees, according to a new study.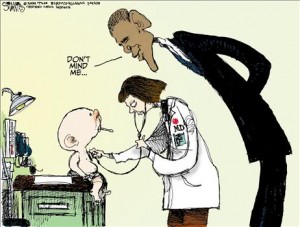 Virginia leads the pack, as individuals aged 27 and under will see their health insurance premiums jump by 252.5 percent — $416.55 — according to the Heritage Foundation's Center for Data Analysis.
Virginians under the age of 50 will see their premiums jump by an even greater percentage, rising from $228 to $991.03.
Such increases are not a surprise to the law's architects. "I have always said when looking at this bill, that if I were a young person, I can see elements of this bill that I wouldn't like in the short run," Henry Aaron, vice chairman of the D.C. health exchange, told the Washington Examiner last November.
Heritage expects monthly premiums for young people to drop in Colorado, Ohio, New York, Rhode Island, and New Jersey, "because those states had already over-regulated insurance markets that led to sharply higher premiums through adverse selection," according to study author Drew Gonshorowski.
The Heritage Foundation's Chairman Jim Demint cited the premium increases as one of the chief reasons his organization pushed for lawmakers to defund Obamacare most recent continuing resolution to fund government in the absence of a proper budget.
Demint argued that the defund push preserved one policy victory on spending. "If the Republicans had not fought on Obamacare, the compromise would have been over the budget sequester," he wrote in a Wall Street Journal op-ed published Thursday.