Israel will attend a UN human rights review on Tuesday, a top official told AFP on Sunday.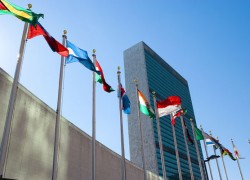 Earlier, Haaretz reported that Germany had warned Israel of a diplomatic backlash if it stayed away from the United Nations Human Rights Council (UNHRC) Periodic Review.
"We will attend" the Universal Periodic Review, the official, who declined to be named, told AFP.
According to the Haaretz newspaper report, German's Foreign Minister Guido Westerwelle had warned Israel of "severe diplomatic damage" if it fails to attend the meeting.
The daily said the warning had come in the form of a personal letter from Westerwelle to Prime Minister Binyamin Netanyahu, delivered to the Israeli embassy in Berlin on Friday "with the instruction that the prime minister receive it as soon as possible."
Netanyahu's office declined to comment on the Haaretz report.
Israel cut all ties with the UN Human Rights Council in March of 2012 after the international body said it would probe how Israeli communities in Judea and Samaria may be infringing on the rights of Palestinian Authority Arabs.
On January 29, Israel became the first country to boycott a council review of its human rights record, which is mandatory for every United Nations member country, after facing increasing criticism for building more Jewish homes in Judea and Samaria.
Israel accuses the council of singling it out as part of the agenda of each of its three annual meetings, as well as passing a number of resolutions against it.
It has also demanded permanent membership on the 47-member council.
"We simply demand to be treated equally like other countries," the top official told AFP.
In February, the UNHRC issued a report in which it said that Israel must withdraw all of its citizens from the regions of Judea and Samaria.
"Israel must, in compliance with Article 49 of the Fourth Geneva Convention, cease all settlement activities without preconditions," the report said in part. "It must immediately initiate a process of withdrawal of all settlers from the occupied Palestinian territories."
Responding to the report, MK Avigdor Lieberman, who as Foreign Minister had ordered that Israel cut its ties with the UNHRC, said the report belonged "in the garbage heap of history."
Commenting on Israel's decision to resume cooperation with the UNHRC, the Geneva-based UN Watch called on the council to drop its agenda item focusing on Israel.
"Now is the time for the council to show good faith on its part — starting with the removal of its notorious agenda item on Israel, the only provision of its kind focusing on a specific country at every meeting," said Hillel Neuer, executive director of UN Watch.
"Not even gross abusers like China, Sudan, or Syria, nor any other country in the world, is subjected to this kind of treatment," said Neuer.
Source material can be found at this site.