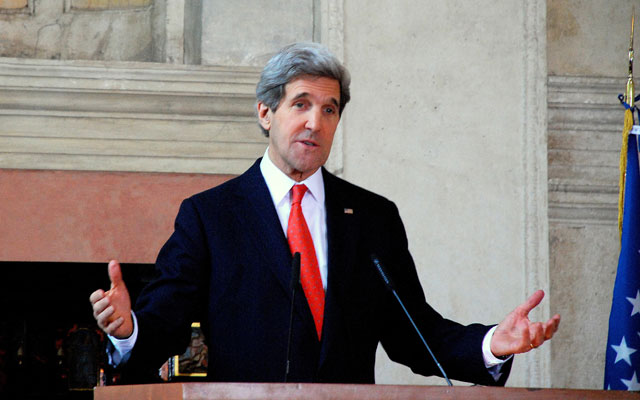 Secretary of State John Kerry's trip to Poland is a step in the right direction, but the timing and manner of Kerry's visit leave much to be desired, especially when viewed in the larger context of the Obama Administration's antipathy toward Eastern Europe.
Kerry is in Poland for talks with the nation's leadership on security and economic partnership. It is his first trip to Poland since becoming head of the U.S. State Department in February. The visit is nestled oddly within a larger trip to five countries in the Middle East. Since taking over as Secretary of State, Kerry has traveled over 222,000 miles and spent over 20 days in the air before stepping foot in Poland, a crucial American ally in Eastern Europe, and he did so only after nine months on the job.
Kerry acknowledged the importance of Poland as an American ally when he said:
It's no accident that I chose to be here in Poland for my first bilateral meeting in Central Europe. In less than 25 years, since the restoration of democracy, the Polish people have turned the country into an economic and security powerhouse, and the progress that has been made is really quite extraordinary. And the impact of Poland is really felt now throughout the transatlantic community.
Actions, however, speak louder than words. At the same time Kerry visits Poland, the U.S. is undercutting its allies in the region by sending only a small number of troops to the NATO Steadfast Jazz exercises currently taking place in Poland and the three Baltic states. In 2009, the Obama Administration canceled plans to deploy missile defense and radar technology to Poland and the Czech Republic, betraying American allies who had risked much by agreeing to host the missile defense sites. Finally, the Administration's January 2012 decision to remove two brigade combat teams from Europe left America's allies in Europe questioning U.S. commitment.
Poland and America's friends in Eastern Europe deserve better than they have received in the past five years. American interests in the region are in a weaker position as a result of the Administration's policies. It is going to take more than Secretary Kerry breezing in belatedly for a few hours to undo the damage.
Source material can be found at this site.