The United States has proposed a short-term nuclear agreement with Iran at a meeting in Geneva which would allow Tehran to continue enriching uranium at low levels, an aide briefed on the talks told the British Telegraph newspaper on Thursday.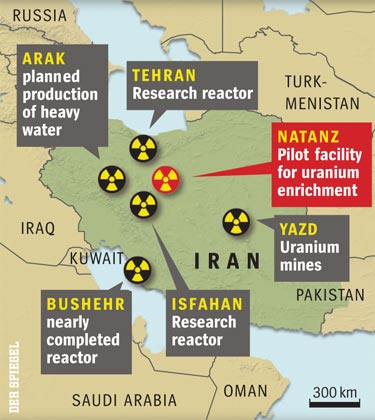 The goal is to freeze Iran's nuclear program for perhaps six months in order to create a breathing space for a comprehensive agreement to be negotiated, according to the Telegraph.
Western diplomats and U.S. officials have refused to disclose any details of a "first step agreement" with Iran at Thursday's talks in Geneva. But a Senate aide, citing briefings from the White House, the State Department and sources in Geneva, said he understood that it would include four key points:
1) Iran would stop enriching uranium to the 20 percent level that is close to weapons-grade and turn its existing stockpile of this material into harmless oxide, according to the Telegraph report.
2) Iran would continue enrichment to the 3.5 percent purity needed for nuclear power stations but agree to limit the number of centrifuges being used for this purpose. There would, however, be no requirement to remove or disable any other centrifuges.
3) Iran would agree not to activate its plutonium reactor at Arak, which could provide another route to a nuclear weapons -capability, during the six-month period. Iran may, however, continue working on the facility.
4) Iran would agree not to use its more advanced IR-2 centrifuges, which can enrich uranium between three and five times faster than the older model.
In return, according to the Telegraph, America would ease economic sanctions, possibly by releasing some Iranian foreign exchange reserves currently held in frozen accounts. In addition, some restrictions affecting Iran's petrochemical, motor and precious metals industries could be relaxed.
However, a senior administration official made clear that only "reversible" sanctions would be eased – and they could be re-imposed if Iran were to break any deal.
The report comes as a senior Iranian official claimed that a breakthrough had been made at nuclear talks in Geneva, and that Tehran's proposed plan for resolving the impasse over its atomic program has been accepted by the six world powers.
Responding to the reports, Prime Minister Binyamin Netanyahu warned that signing an interim deal with Iran would be a mistake of "historic proportions," but that appears to be precisely the deal being hammered out.
Speaking at a conference on joint strategic dialogue between the government of Israel and the Jewish world, Netanyahu said the proposals being offered at the meeting would ease pressure on Iran for empty concessions that would "allow Iran to retain the capabilities to make nuclear weapons."
David Albright, the director of the Institute for Science and International Security (ISIS), a think tank which monitors Iran's nuclear ambitions, cautioned in a conversation with the Telegraph against an agreement that would not genuinely freeze the program.
If Iran stopped enrichment to 20 per cent purity and converted its existing stockpile, this would be "nowhere near enough", he said. Any interim agreement would be also undermined if Iran was still able to manufacture centrifuges, including the old IR-1s and the more advanced IR-2Ms.
ISIS recently released a new report which found that Iran could produce enough weapons-grade uranium to build a nuclear bomb in as little as a month.
Source material can be found at this site.