The Wall Street Journal reports that only 40,000 to 50,000 have thus far signed up on the federal website. This brings the total number of enrollees (including the 12 states with working sites) to fewer than 100,000. While at least 4.4 million have lost their health insurance. Obama's target for October alone was 500,000, he missed that target by a lot.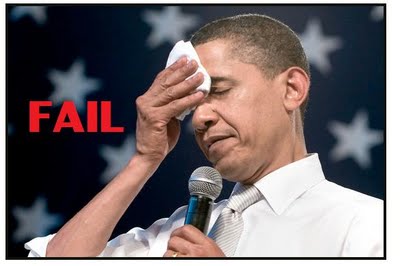 Hot Air did the math: With 7 million being the total enrollee goal by the end of next March and only 100,000 enrolled thus far, the White House is "1.4 percent of the way there with almost 25 percent of the initial enrollment period having already elapsed."
Reuters reports that in the 12 states where the ObamaCare exchanges are working smoothly, only 49,100 have enrolled for ObamaCare. The 2014 goal in these 12 states is 1.4 million enrollees. The 49,100 number represents only 3% of that goal and includes Medicaid enrollees in Hawaii and Rhode Island.
The enrollment period ends at the end of March, 2014.
At this same point in the Medicare Part D rollout, 10% of its eventual enrollees had already signed up.
This might explain why healthcare research and consultancy firm Avalere Health told Reuters that, "The turnout in states with functioning marketplaces has so far been weak rather than gradual."
But it is "gradual" that ObamaCare's defenders are counting on to reach the expected numbers. "Weak" is a potential disaster.
Unfortunately for the White House, enrollment is dangerously low even where the exchanges are working. The Administration is expected to release accurate numbers from the federal exchanges sometime this week, hopefully with no Obama spin on them.
The enrollee goals are not arbitrary. These goals are absolutely essential to make the ObamaCare insurance market sustainable. Low numbers of enrollees are almost certain to mean that only the sick and elderly are signing up, and not the young and health who are necessary to offset the cost and keep insurance rates down.
A Gallup poll released Friday shows that a majority of the uninsured are rejecting ObamaCare.
While ObamaCare has resulted in at least 4.5 million Americans losing their health insurance, despite President Obama's 4-year campaign of reassurance that no one would face cancellations, Obama's promises to Americans later turned out to be complete lies.