Exclusive: violence against Christian minorities is now a "global crisis" as worshippers are driven out of their ancient homelands by militants, a senior minister warns.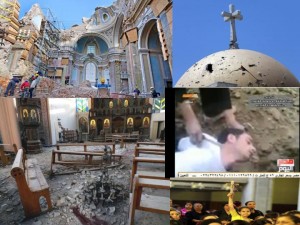 Christianity is in danger of becoming extinct in its ancient homelands because of a rising tide of Islamic attacks, a senior minister will warn on Friday.
Violence against Christian worshippers and other religious minorities by Muslim fanatics has become a "global crisis" and is the gravest challenge facing the world this century, Baroness Warsi will say.
"A mass exodus is taking place, on a Biblical scale. In some places, there is a real danger that Christianity will become extinct," she will say at a speech at Georgetown University in Washington.
In the new year, Lady Warsi, the Minister for Faith who sits in the Cabinet, will host an international summit to draw up a plan to end the violence against Christians – particularly in the countries where the faith was born and Muslims are a majority.
Writing for Telegraph.co.uk, Lady Warsi highlights the Muslim bombing of All Saints Church in Pakistan, killing 85 congregants, in September and the gun attack on a Coptic wedding party in Egypt as the latest outrages by militants who have turned "religion upon religion, sect upon sect".
"There are parts of the world today where to be a Christian is to put your life in danger," she writes. "From continent to continent, Christians are facing from Muslims discrimination, ostracism, torture, even murder, simply for the faith they follow.
"Christian populations are plummeting and the religion is being driven out of some of its historic heartlands. In Iraq, the Christian community has fallen from 1.2m in 1990 to 200,000 today. In Syria, the horrific bloodshed has masked the haemorrhaging of its Christian population," she says.
Muslim terrorists are subjecting Christians in the Middle East to "collective punishment" for American foreign policy. Worshippers are now regarded as newcomers and agents of the West, despite having lived there for centuries.
The attacks come against a diverse background of political upheaval, local turf wars and social unrest – but they share the common trait of Christians becoming a "scapegoat" for extremists who are insecure in their own religious identity, she will say.
It is the same mindset that motivated the Nazis to persecute the Jews and the Communists to suppress the Russian church, she says.
Lady Warsi is the first senior British politician to draw attention to the plight of Christians in the Arab world, and will call on other Muslims to defend Christians, citing the example of Christians who defended praying Muslims in Tahrir Square during the Egyptian uprising.
"A bomb going off in a Pakistani church shouldn't just reverberate through Christian communities; it should stir the world," she says.
The response must be a co-ordinated international effort similar to the campaign against Apartheid and for Civil Rights in the United States, Lady Warsi will argue. Muslim Extremists must be prevented from "twisting history" by claiming co-existence is not possible.
Her intervention comes as church leaders become increasingly alarmed at the rising numbers of sectarian attacks on churches in the Islamic world.
The Archbishop of Canterbury has described the victims of bombings in Pakistan as "martyrs". "They have been attacked because they were testifying to their faith in Jesus Christ by going to church," he said. Lord Sacks, the former chief rabbi, has described the continuous wave of attacks on Iraqi Christians by Al-Qaeda as "the religious equivalent of ethnic cleansing".
Around a third of Syria's Christian population are believed to have fled during the civil war, after being targted by Islamist rebels. Earlier this month 45 Christian civilians were reported to have been killed and their churches desecrated in a massacre in Sadad, near Damascus, one of the oldest Christian communities in the world.
In Egypt, the Coptic Orthodox Church, which is the oldest in the world and was founded in 50AD, has come under attack from Muslim suicide bombers and arsonists since the Arab Spring.
In Kenya, the Islamic group Al-Shebaab had gunmen who attacked a shopping mall in September, killing 61 civilians, asked Muslim hostages to leave before shooting the non-Muslim victims.
John 16:2 The time is coming when those who kill you will think that they are doing a service to God.