RECLAIM AMERICA NOW
Non-Violent 'Revolution' is the ONLY Way to Get Washington Back In Line
Be Heard in Washington Nov. 19th
URGENT ACTION ALERT: Sick, tired and frustrated with BOTH sides of the aisle in Washington, Americans nationwide are SHOUTING their outrage, descending on the Capitol on Nov. 19th as part of the Reclaim America Now protest. They are demanding answers, action and JUSTICE for the plethora of Obama scandals – Benghazi, Extortion 17, Fast and Furious, IRS abuse, ObamaCare lies, NSA spy games, amnesty fraud and more – ALL are targets of citizen mobilization as we take to Washington and REFUSE TO GO HOME until our GRIEVANCES are REDRESSED!
SELECT HERE TO HELP RECLAIM AND RESTORE AMERICA NOW
"We must have the means to literally camp in Washington, D.C., and not leave until we get results," explains former Justice Department attorney Larry Klayman of FreedomWatch, one of the event's organizers.
"Never before has such a widespread coalition been compiled to show peaceful, non-violent force, as in the days leading up to the first American Revolution. As our great Founding Father and second American president declared, '[w]hen the people fear the government, there is tyranny. When the government fears the people, there is liberty,'" said Klayman's announcement.
To begin to reclaim America, patriots nationwide need your help ensuring we have the means to feature leaders to rally our people, and solidarity with victims of this administration who must speak out and be heard.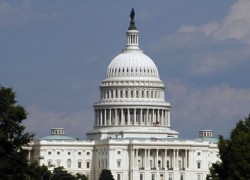 Part of this effort is "use it or lose it" – if we FAIL to exercise our First Amendment rights, we absolutely will NOT long have them under the Obama regime. This protest needs to SHOW UP and CAMP OUT until we get results. In addition to Lafayette Park in front of the White House, we're calling on Americans nationwide to gather and protest Obama's emerging tyranny in parks, sidewalks and other public areas consistent with their constitutional Right to Assembly in order to RECLAIM AMERICA NOW.
November 19th is the 'People's Referendum' to make clear We the People want constitutional order restored NOW – just as the recent Million Vets March successfully spotlighted and REJECTED Obama's blatant political manipulation, lack of respect and abuse of power towards our Veterans.
We are mobilizing a nationwide call for more reinforcements from organizations and citizens just like YOU! Support our call to Reclaim America Now, and take on Barack Obama's destruction of our Land of Liberty.
Please, will you help us rally America to call NOW to remove Obama, and assist us with a donation to offset travel, organization and publicity expenses so the truth of America's peril can be heard at the White House gates? NOW is the time to Reclaim America!
Larry Klayman told WND, "A list of demands of legitimate grievances will be presented to President Obama and other government leaders that they can either address and remedy or be called upon to resign from office."
"We the People have had enough of the corrupt and incompetent ways of the Obama administration and its bi-partisan political enablers. It is time for action, and not words. Together, the American people will prevail and we will save this nation from extinction at the hands of a present government that could care less about the legitimate needs of the people. We welcome persons from all spectra of our society to join us in this quest to reclaim freedom for the masses," Klayman said.
Reclaim America Now has a redemptive mission for the nation, which is neither violent nor destructive. The coalition website explains: "Short of violent revolution which we hope to avoid, civil disobedience in the style of Mahatma Gandhi in India … Lech Walesa in Poland, Martin Luther King, Nelson Mandela, and most recently, democracy-minded Egyptians in Tahir Square, must be employed urgently before the nation goes under for the count."
Among those bringing YOUR voice to Washington are: Dr. Alan Keyes of Declaration Alliance, Pam Geller of Atlas Shrugs, Floyd Brown of Western Center for Journalism, Joseph Farah of WND, Joe Kaufman of Americans Against Hate, Bradlee Dean of Sons of Liberty, Vincent Forras of Gear Up Foundation, Belinda Bee of 2 Million Bikers to D.C., Zeeda Andrews of Ride for the Constitution, Larry Ward of Constitutional Rights PAC, and Klayman of FreedomWatch.
Coalition members will be bringing before our fellow Americans some of the victims of Obama's shocking – but often under-reported – corruption and the fecklessness of a colluding Congress… to share their testimony about the damage this administration has caused. Our nation needs to hear firsthand about the cost to our people personally of Obama's conduct and policy, as well as how his regime cadres injure and endanger our sovereign nation as a whole.
November 19th from 10 a.m. to 6:30 p.m. is the time for all patriotic Americans to unite and demand the resignations of Barack Obama, Harry Reid and John Boehner.
Please, help us reach out to MORE patriotic Americans with this critical call to action! Unparalleled REJECTION of the status quo corruption, across the whole political spectrum, is the key to taking back Washington and taking down this elitist administration.
SELECT HERE TO HELP RECLAIM AND RESTORE AMERICA NOW
For America,
The Editors
Patriot PAC – www.PatriotPAC.com