It was a most unusual scene for a federal courtroom.
Seventeen former convicts, some dressed in hoodies and weary from pulling all-night shifts, took turns updating U.S. District Judge Felipe Respreto last week on their progress toward finding their way back from societal exile, some after serving more than a decade in prison.
Many spoke of struggles finding permanent employment, places to live, child care and medical assistance. All the while, the man from Washington quietly took it in from a seat near the judge's bench, until the unusual docket call was complete.
"I grew up in a neighborhood in Queens (N.Y.), where guys like you would have been my boys, you know?" Attorney General Eric Holder told the ex-offenders. "We'd have played ball together, we'd have partied together. … Life is not always fair. The question is how do you deal with that unfairness. It will not be easy."
For the attorney general, who has spent much of his tenure being hammered by congressional committees related to the government's seizure of reporters' telephone records and second-guessed on his desire to prosecute terror defendants in civilian courts, the Philadelphia courtroom represented the next step on a deeply personal mission to revamp the federal criminal justice system.
Philadelphia's Supervision To Aid Re-entry (STAR) is part of a series of efforts Holder is pushing to redirect a system burdened by a crushing federal prison population of nearly 220,000 that is 40% over capacity, requiring about 25% of the $27 billion Justice budget to maintain.
The task, which Holder outlined this year in a speech to the American Bar Association when he referred to a "broken" American legal system, has been elevated to a major priority at Justice and is helping to provide new meaning for an attorney general who had considered stepping aside. Holder took the campaign to St. Louis and Peoria, Ill., Thursday to voice support for similar programs.
"It's something that really animates me and makes me want to continue in this job," Holder said in an interview with USA TODAY. "There are still things I want to do."
'THIS IS VERY PERSONAL'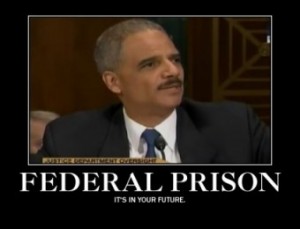 Tending to a hobbled justice system, some legal analysts said, is a job Holder is uniquely positioned to do.
Laurie Robinson, a former assistant attorney general who worked closely with Holder on prisoner re-entry and other criminal justice policy issues, said his past experience as a prosecutor and judge has prepared him for the task.
"This is very personal for Eric Holder," Robinson said. "These issues go back to a time when he was sitting as a (Washington) D.C. Superior Court judge and saw so many young men, especially people of color, pass through the system on their way to prison."
Holder has called for doing away with some mandatory minimum sentencing policies that have resulted in prolonged prison terms for thousands of non-violent offenders. He has acted to streamline rules for the early release of older and ill inmates who no longer pose threats to society, yet require expensive special care.
The strategy tracks a significant shift in criminal justice policy that has been sweeping the states in recent years. Increasingly, officials are acknowledging that they they can no longer bear the costs of warehousing thousands of non-violent offenders, most for drug crimes, who have been targets of harsh punishment.
Yet as states, including Arkansas, Kansas, Kentucky and Texas, have reduced prison populations by referring more offenders to treatment or probation, the federal system has continued to grow to its present bloated state.
Many of Holder's proposals have won the support of bipartisan coalitions, including an unlikely partnership of Patrick Leahy, D-Vt., and Rand Paul, R-Ky. "I am encouraged that the president and attorney general agree with me that mandatory minimum sentences for non-violent offenders promote injustice and do not serve public safety," Paul said this year, referring to legislation he co-sponsors with Leahy that would allow judges greater authority to depart from mandatory minimum prison terms for some offenders.
Vikrant Reddy, a senior policy analyst adviser for the conservative group Right on Crime, whose members include former Florida governor Jeb Bush and former House speaker Newt Gingrich, said support for such a variety of proposals represents "a terrific moment for change."
Some aren't convinced that an overhaul is necessary. "I'm skeptical," Sen. Chuck Grassley, R-Iowa, said last week at a Judiciary Committee hearing on federal prison operations.
"Reducing prison sentences will bring prisoners out on the street sooner," Grassley said. "The deterrent effect of imprisonment would be reduced. … Somehow, cost analyses for the Bureau of Prisons do not include costs to victims, including injuries, economic losses and psychological and emotional harm.
BREAKING THE CYCLE
In Philadelphia, Holder returned to the courtroom, where he got a fresh look at the back end of a justice system that is releasing about 700,000 offenders from state and federal prisons each year. Many of them, without some of the employment, housing and counseling assistance that the Philadelphia re-entry program provides, are at high risk of committing new crimes and beginning the prison cycle all over again.
Success is measured in fragile, incremental steps.
Joseph Young, 34, who served five years on drug distribution charges, is one of the program's recent success stories. Dressed in a crisp, dark uniform, Young works as an emergency medical technician for an ambulance company.
"When I first came here," Young told the judge, "I was focused on trying to help my kids … so I could be able to see them and stuff like that. You helped me out a lot, and to me, that goes further than a friend. You're like family to me.
"And these people right here," Young said, whirling to recognize a group of counselors and probation officers seated behind him, "that's a super team. Don't think that just because we got records, we can't do anything, because we can. If somebody (prospective employers) tells you 'no,' ask them why and then look more into it and challenge them. This program is really a savior."
Seemingly oblivious to the presence of the nation's chief law enforcement officer seated a few feet away, Young accepted the applause of a crowded courtroom, then returned to a seat next to his boss, who accompanied Young to the session.
When it was his turn to speak, Holder — the product of another inner city who had lost friends to drug problems like the ones that brought many to this courtroom — offered an unusually personal affirmation.
"We are not fundamentally different," the nation's first African-American attorney general told the group of former offenders, all but one of whom were either black or Hispanic. "It's kind of emotional because a few of you (who) came up here reminded me of people who I grew up with in Queens, a couple guys who aren't with me anymore, who are near and dear to me, who got in the wrong situation, made some bad decisions and, you know, didn't make it.
"You have a unique opportunity and I think a responsibility to give something back and to make better the lives of those youngsters who will be looking up to you. In some ways, they can identify with you more than they can identify with me. … You guys are more real-world to them, and you have a responsibility to that next generation. As men of color, you have an obligation to them."
Matt Rourke, AP
—-
A service of YellowBrix, Inc.