Sweden is the poster state for people like Obama that believe in the power of the government to solve all problems.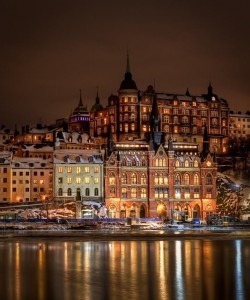 The beautiful nation of Sweden has the highest standard of living in the world. Its blossoming industry ranks far higher than the United States in most measurements. Life in Socialist Sweden is free of homeless, reckless, crazy people. In spite of the 55% income tax, Sweden has a history of strong family values, the most progressive education system in the world and extremely low unemployment.
Sweden boasts a new Third Way between Capitalism and Socialism, making it a great example of new age Collectivism. It's superior unionization and strong economy will ensure that it will be a Socialistic success story for years to come.
If you say Sweden, I say "Socialism WORKS!"
But does it really work?
The lesson of the Third Way? Free trade is not free just because someone calls it "free".
Starting in the early 1990s, Sweden finally woke up to the fact that to be successful, a country needs entrepreneurs. No entrepreneurs, no new businesses. No new businesses, rising unemployment. Rising unemployment, politicians looking for new jobs?or new careers. Deciding that they like their jobs, a new generation of Swedish Social Democrats has created a much more friendly environment for business. Sweden is not a capitalistic heaven on earth, but it's not the hell on earth for entrepreneurs that it was until a few years ago.
Also Sweden liberal immigration policies have lead to recent riots, increased crime and rapes. So much so that rapes have increased 500% in the Scandinavian country. Its so bad in Sweden one out of every four Swedish women being the victim of rape sometime in their life.