Three Lebanese nationals suspected of being Hezbollah members were cleared of terrorism charges in Nigeria on Friday, AFP reported, but one of the accused was convicted of a weapons offence and jailed for life.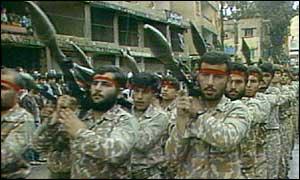 Mustapha Fawaz, Abdallah Thahini and Talal Ahmad Roda were arrested in May after the discovery of an arms cache in a residence in the northern Nigerian city of Kano.
They were accused of plotting attacks against Western and Israeli targets in Nigeria but denied the accusations.
Federal High Court Judge Adeniyi Adetokunbo Ademola said Hezbollah "is not an international terrorist organization in Nigeria" and therefore membership is not criminal, according to AFP.
He said there was "no evidence" that the group was planning an attack or had received "terrorism training" as the prosecution alleged.
All three men were also acquitted of money laundering charges.
Roda, however, was found guilty of conspiracy to import weapons into the country and sentenced to life imprisonment.
A defense lawyer for all three men, Ahmed Raji, told reporters after the hearing, "We are happy and slightly not comfortable with respect to the third accused (Roda).
"The most important thing is that the grave aspect of the charges, that is terrorism, was knocked out. We are happy about that," he added.
In August, Fawaz claimed that he had been interrogated by Israeli security agents after his arrest.
He said the grilling was carried out by "six Israeli Mossad agents and one masked white man" who were primarily concerned with his contacts in Lebanon and demanded details of where weapons were stored in his home country.
In August, Nigeria charged two of its citizens with assisting an Iranian terrorist cell in planning possible attacks on Israeli targets.
The Nigerian secret service arrested the two, Abdullahi Mustapha Berende and Saheed Oluremi Adewumi, in February.
It accused them of being members of a "high profile terrorist network" that was planning attacks on home soil.
The alleged cell was not named in the charge sheet. Shortly after the arrests, Iran denied that it had committed any "illegal act" in Nigeria.
Source material can be found at this site.