A Hawaii state health official who gained national attention when she released a copy of President Barack Obama's birth certificate in 2011 was killed in a plane crash off the island of Molokai, authorities said on Thursday.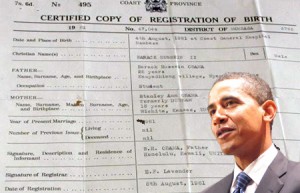 Loretta Fuddy, director of the Hawaii Department of Health, died when a single-engine plane with nine people on board, operated by a small regional carrier, went down some 300 yards off Molokai's Kalaupapa peninsula on Wednesday during an inter-island flight.
The pilot and seven other passengers survived the crash with various injuries, U.S. Coast Guard search and rescue controller Darin McCracken said, adding that one of the injured swam to shore.
A spokesman for the Hawaii Department of Health said Fuddy's deputy, Keith Yamamoto, was among the passengers who survived the crash of the Cessna 208 Caravan.
Out of the 9 people on the plane, the only one that died was Loretta Fuddy, who was the director of Hawaii's Health Department.
Fuddy received a great deal of attention over her controversial decision to use her position to officially certify Barack Obama's birth certificate when many claimed that he was actually an Indonesian national and not qualified to hold the office of President of the United States.
The controversy dragged on for months and Fuddy tried to quash the uproar by using her position to officially certify Barack Obama's birth certificate.
She claimed to have personally seen the original typewritten birth certificate with her own eyes and that it would remain secured but not publicized and that the "copy" would be offered instead.
A subpeona was issued to compel her to produce the original and the debable has been up in the air ever since.
A pilot and eight passengers were on board the Makani Kai Air plane, which was scheduled to take off at 3:15 p.m. and fly to Honolulu. It went down about a half mile northwest of Kalaupapa peninsula, Maui Fire Department spokesman Lee Mainaga said in an emailed statement.
Coast Guard Petty Officer Melissa McKenzie said a Coast Guard helicopter rescued 3 passengers out of the water and Maui fire crews picked up five people. One person swam ashore.
McKenzie said the helicopter brought three people to Honolulu for medical treatment, while a Coast Guard plane took five people to Maui.
Loretta Fuddy was the only passenger to die in the Cessna accident.
Related: Crossing Obama Can Be Deadly!