White House reporters piled on press secretary Jay Carney Thursday over photographers' limited access to the president. Carney blamed the Internet. Obama claimed during his election campaigning said he would run the most transparent administration in history.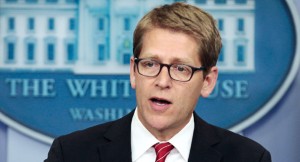 It finally happened. The White House press corps blew up at press secretary Jay Carney Thursday over the long-simmering issue of photographers' access to President Obama.
During Nelson Mandela's memorial service, none were allowed on the platform where Mr. Obama and his two immediate presidential predecessors sat during the service, unlike official White House photographer Pete Souza. And none were allowed into the front of Air Force One to snap any shots of the Obamas and their guests – including former President Bush and wife Laura – during the long flights to and from South Africa.
This is actually a serious issue, one that the director of photography for the Associated Press opined on in Thursday's New York Times, in an article called "Obama's Orwellian image control." Santiago Lyon called the Obama administration "undemocratic" and "hypocritical" in the way it has "systematically tried to bypass the media by releasing a sanitized visual record of [Obama's] activities through official photographs and videos, at the expense of independent journalistic access."
In October, a delegation from the White House Correspondents' Association visited Carney to complain about photographers being shut out of events photographed by Souza. Times photographer Doug Mills slapped down a stack of Souza photos for emphasis.
"You guys are just like Tass," the Russian news agency, Mr. Mills said to Carney, according to National Journal.  Obama allows photography access, much like the Soviet police state did.
Ouch. Carney was a Moscow correspondent for Time magazine during the Soviet era.
Last month, the correspondents' association weighed in.
 "As surely as if they were placing a hand over a journalist's camera lens, officials in this administration are blocking the public from having an independent view of important functions of the Executive Branch of government," said the Nov. 21 letter to Carney.
Carney didn't exactly endear himself to them when he pointed out that the Internet has made it super easy to go around paid media and distribute photographs. He said he was "very sensitive" to the pressure on media business models.