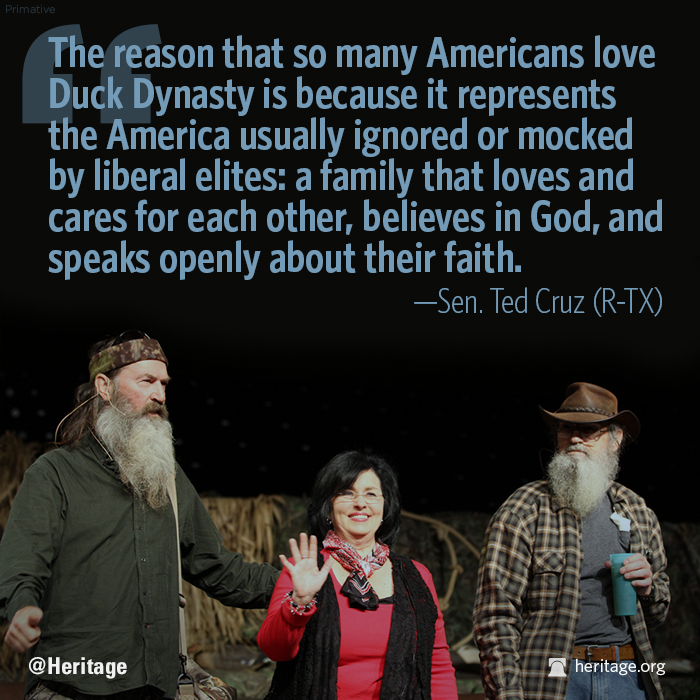 Fans of Duck Dynasty can breathe a sigh of relief. Phil Robertson, who was suspended indefinitely last week for saying he believed homosexuality was sinful, has been reinstated by AE.
After Robertson was suspended for comments made in a GQ interview, the public responded with outrage that the TV network would silence someone because of his religious beliefs.
The show is not currently filming, so the suspension will have no affect on Robertson's appearance in the next season.
AE initially succumbed to pressure from the gay rights group GLAAD, which resulted in the suspension, but the backlash was overwhelming.
After the suspension, the Robertsons released a statement saying that they couldn't  "imagine the show going forward without our patriarch at the helm," suggesting that the family would leave AE if Phil was not permitted to return.
Fans of the show rose up in an unprecedented show up support on social media, garnering more than 1.5 million likes on a Facebook fan page called "Stand With Phil" in just days. In addition, #IStandWithPhil was trending on Twitter nearly the entire week. A petition to reinstate Phil at IStandWithPhil.com was circulated and gathered more than 200,000 names.
Even politicians were quick to lambast AE's decision with Louisiana Governor Bobby Jindal and Texas Senator Ted Cruz calling out the network for its action.
AE reversed their suspension yesterday with a statement revealing why. Here is a portion of the statement:
Duck Dynasty is not a show about one man's views. It resonates with a large audience because it is a show about family … a family that America has come to love. As you might have seen in many episodes, they come together to reflect and pray for unity, tolerance and forgiveness. These are three values that we at A+E Networks also feel strongly about.

So after discussions with the Robertson family, as well as consulting with numerous advocacy groups, AE has decided to resume filming Duck Dynasty later this spring with the entire Robertson family
Jindal, who is governor of the Roberstons' home state, reacted swiftly to the reversal of the suspension, saying, "I am glad to hear that the folks at AE came to their senses and recognized that tolerance of religious views is more important than political correctness."
Similarly, Cracker Barrel, which stocks Duck Dynasty products, reversed its decision not to sell the products in its restaurants.
AE, a private company, has the right to make any decision it chooses regarding its television shows, but this culture of intolerance extends beyond just Duck Dynasty. As Heritage's Ryan Anderson explained last week:
 The government will respect AE's rights to operate according to their sexual values, even if many Americans disagree with them. But in a growing number of instances, the government hasn't respected the rights of people of faith to run their businesses in accordance with their views about sexuality. In cases involvingadoption agencies, a photographer, a baker, a florist, a bed-and-breakfast, a T-shirt company, a student counselor, the Salvation Army, and more, government has not respected the free contract and free speech rights of Americans.
Even though AE had suspended Robertson, the channel continued to play a marathon run of Duck Dynasty — the highest-rated reality show on cable — over the holidays. Its fifth season premier airs on January 15.