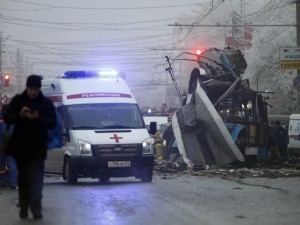 Two suicide bombings on consecutive days by Muslims radicals have killed at least 31 innocent people in a southern Russia city, highlighting the Islamic terror threat Russia faces as it prepares to host the Winter Games in six weeks.
An Islamic suicide bomber on a bus early Monday in Volgograd murdered at least 14 people and left nearly 30 more wounded, Russian officials said, just a day after another Islamic suicide bombing killed at least 17 at a railway station in the city.
That confirms the investigators' version that the two terror attacks were linked and Islam is the motivating factor, Authorities said in a statement. "They could have been prepared in one place believed to be a Mosque or home of a Muslims radical.
Islamic Chechen rebel leader Doku Umarov called for attacks against innocent civilian targets in Russia. Umarov, leader of a terrorist group that calls itself the Caucasus Emirate, has called on all Muslims to disrupt the Olympics with murder and mayhem, which will be held in Sochi in February.
"If you are a terrorist group in the Caucasus, the Sochi Olympics are going to be a very inviting target," said Steven Pifer of the Brookings Institution's Arms Control and Non-Proliferation Initiative.
Some Muslim terrorists view the Olympics as a provocation, says Jeffrey Mankoff of the Center for Strategic and International Studies' Russia and Eurasia Program. Sochi was conquered in the 19th century. "They view it as a provocation on territory they consider stolen from Muslims," he said. Muslims believe the whole world belongs to the Muslim God Allah, and all areas occupied by non-Muslims must be forcefully converted or killed according tothe Islamic book called the Qu'ran.
The Russian government has deployed tens of thousands of soldiers, police and other security personnel for the Games, and it has introduced some of the most extensive identity checks and security measures seen at an international sports event.
Russia in past years has seen a series of terror attacks on buses, trains and airplanes, some carried out by suicide bombers, all of the attacks were done by Muslims.