December 22, 2013 14:12
by Pesach Benson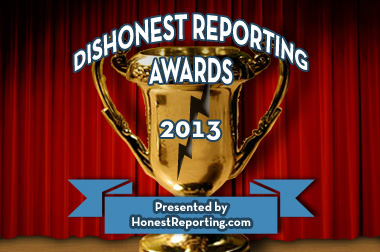 With the world watching Syria, Egypt, and Iran so closely in 2013, Israel was relatively less of a lightning rod for the international media.
Still, Israeli-Palestinian negotiators were nudged back to the peace table, and Benjamin Netanyahu spoke out against the shortcomings of Iranian nuclear diplomacy. US-Israel relations were strained by differences on both issues. Everything else was either just a detail, or simply paled in comparison to those bigger issues.
We thank our readers for sharing their thoughts on the year that was. Here are the 2013 Dishonest Reporting runners-up.
And now, without further ado . . .
The 2013 Dishonest Reporting Awards

Dumbest Tweet: Borzou Daragahi
Only fringe conspiracy theorists would take this Financial Times reporter's tweet seriously. In February, Bulgarian investigators concluded that Hezbollah was responsible for a 2012 suicide bombing which killed five Israelis, their Bulgarian driver, and injured dozens more in the Black Sea resort town of Burgas. The FT's Borzou Daragahi suggested on Twitter that Israel paid Bulgaria to blame Hezbollah.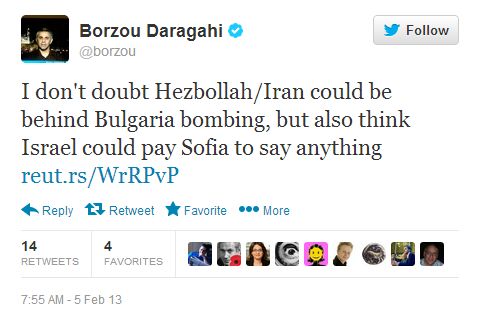 Finding himself in hot water, Daragahi tweeted an apology a few hours later. But one question lingers: What does it say about the state of the media when a journalist tweets such mindless stupidity?

Most Skewed Moral Compass: Amira Hass
Throwing stones is the birthright and duty of anyone subject to foreign rule . . .  Throwing stones is an action as well as a metaphor of resistance.
Discussing the furor, Hass insisted to 972 Mag:
Stone throwing is a message, and the Israelis don't listen to it.
Hospitalized Israeli children like Avigail Ben Zion and Adele Biton are too young to understand Hass's so-called "metaphors of resistance," but left-wing activist Danny Seidemann sure got the message.

Most Brainless Headline (USA): CNN
Wouldn't the CNN brass be more than irked if rockets were fired at them?


Most Brainless Headline (UK): The Guardian
This commentary in The Guardian's print edition was just as snooty and arrogant as the headline.
The author, Giles Fraser, wrote:
But the flip side of all this prodigy-like technological mastery is a lack of empathy, an inability to meet the gaze or to enter into the emotional reality of its neighbours. In this Rain Man caricature, Israel lives in an existential bubble, cut off (by a wall, both mental and literal) from its surroundings.
To which one reader, Smellthecoffee2, aptly commented:

Poison Pen: German Cartoonists
This is a three-way tie between several German papers and their cartoonists. In chronological order:
In July, the widely read daily, Süddeutsche Zeitung, chose this illustration to accompany a review of a Peter Beinart book. Next to the review, the image suggested that Israel was a voracious modern-day monster.
The caption read:
Germany is serving. For decades now, Israel has been given weapons, and partly free of charge. Israel's enemies think it is a ravenous Moloch. Peter Beinart deplores this situation.
The artist, Ernst Kahl, had prepared this picture as an illustration for a culinary magazine and was shocked to discover Süddeutsche Zeitung used it in a political context. A red-faced Süddeutsche Zeitung apologized; later in the year, a German Press Council ruling agreed that the image's use reproduced anti-Semitic stereotypes.
In August, a Stuttgarter Zeitung cartoon depicted Benjamin Netanyahu using settlements to poison a peace dove. The caption refers to a song "Poisoning Pigeons in the Park," by Georg Kreisler, an Austrian-American musician and Holocaust survivor who died in 2011. (The song has no connection to Israel.)
Both the Israeli embassy and the Kreisler family protested the cartoon. The cartoonist, Rolf Henn (who goes by the pen name, Luff) never apologized. Deputy editor Michael Mauerer told the Jerusalem Post he "regretted that feelings were offended," but rejected accusations of anti-Semitism.
The third cartoon was published in November, on — of all days — the 75th anniversary of Kristallnacht. Similarly raising the poison angle, Badische Zeitung cartoonist Horst Haitzinger depicted a snail with a dove's head on it's way to Geneva for Iranian nuclear talks as Benjamin Netanyahu says into a cell phone, "I need pigeon and snail poisons."
The cartoon triggered Germany's third anti-Semitism uproar of the year. Neither Haitzinger nor the editors apologized.
The trifecta of demonizing images put a literal spin on the term poison pen, cementing German media's place in the 2013 Dishonest Reporting Awards.
Most Bullheaded Broadcasting Corp.: BBC
In March, UN investigators exonerated Israel for the death of 11-month-old Omar Misharawi during 2012?s Operation Pillar of Defense. Photos of Baby Omar being held by his father, Jihad Misharawi (himself a BBC video editor) became an iconic image of the conflict, a symbol of innocent babes killed by Israeli firepower.
Months afterwards, the UN concluded that Baby Omar had, in fact, been killed by a Palestinian rocket. To their credit, most Western papers picked up on the new findings. But despite the revelations, the BBC — Misharawi's employer — continued waving its fists at reality, arguing that Israeli responsibility was still disputable. This headline demonstrates why BBC stands for Bullheaded Broadcasting Corp.
As then-Ambassador Michael Oren explained to the Washington Post about the photo's significance:
"You have to understand that the media is as much of a battlefield for them as anything going on" on the ground, he said. "You are dealing with terrorist organizations that will exploit and manipulate the media. They know how the Western press works and how to use it to their advantage."
Favorite Identity Crisis: Newseum
Who exactly is a journalist? Newseum, a Washington D.C. museum of news, suffered an identity crisis earlier this year when it sought to pay tribute to 84 journalists killed in combat zones. Unfortunately, Newseum's list of honorees included Mahmoud Al-Kumi and Hussam Salama, a pair of Hamas operatives "working" as cameramen for the terror group's Al Aqsa TV.
At best, Al-Kumi and Salama were propagandists employed by a terror group; at worst, they were combatants adept at handling both cameras and Kalashnikovs. This was an ongoing disagreement between Israel and press groups like the Committee to Protect Journalists, which seemed to define journalists as simply anyone driving a car with the letters TV taped to the vehicle.
Newseum thought the better of it and wisely withdrew the two from its commemoration. Identity crisis resolved.
Most Creative Self-Marketing: Fadi Arouri
Western readers can be forgiven for not being too familiar with the Palestinian anti-normalization campaign. The movement opposes the normalization of Israeli-Palestinian ties in any form — including politics, academia, sports, business, etc. It even managed to tie Mahmoud Abbas's hands, but it doesn't get any Big Media scrutiny (Forbes was a notable exception).
Fadi Arouri, a Ramallah-based photographer currently associated with China's Xinhua news service, is one of the movement's key figures. HonestReporting learned in July that Arouri inappropriately blurred the ethical lines between professional journalism and political activism. Specifically:
Arouri organized a march of Palestinian journalists to a West Bank checkpoint so they could photograph each other scuffling with Israeli soldiers. (See the fatuous photo essay at Maan News.)
Arouri organized a campaign against an International Press Freedom Day event in Ramallah simply because the event was sponsored by the US consulate.
Arouri incited a crowd of Palestinians against another journalist who was interviewing people in Ramallah. HonestReporting learned that i24 correspondent Mohamed Najib had to leave in fear of his life.
Arouri initiated a protest against the presence of Israeli reporter Yoram Cohen at a PA press conference.
Arouri campaigned against the opening of an Israeli clothing store in Ramallah.
Thanks to Arouri and his cohorts, the anti-normalization campaign has overpowered the Palestinian Journalists Syndicate (PJS). And his shenanigans raise messy ethical questions the PJS would prefer ignoring.
Most Bitter Medicine: The Lancet
With rigorous standards and peer review, medical journals have a halo effect — anything they write about Israel and the Palestinians becomes accepted as fact. After all, the wider public isn't in a position to identify or debunk misinformation.
So it was when The Lancet accused Israeli doctors of complicity in torturing Palestinians. The accusation was based on the death of Arafat Jaradat, a Palestinian prisoner who succumbed to a heart attack after Israeli medics spent nearly an hour trying to resuscitate him with CPR.
An Israeli autopsy found broken ribs and bruises on Jaradat's chest, and The Lancet quoted the PA's chief pathologist, Saber Aloul, who said the "bruising on the body was evidence of torture." Fortunately, Doctors Against Racism and Anti-Semitism countered The Lancet's bad medicine, pointing out that vigorous CPR almost inevitably causes rib fractures and bruising.
Shortly before the Dishonest Reporting awards went to press, The Lancet published its annual report on Palestinian health care. Among the contributions, HonestReporting debunked several reports including:
* * *
We thank our readers for their input. Watch this space as we announce later this week who readers selected as the overall 2013 Dishonest Reporting Award winner.
UPDATE: The New York Times was the big winner. See A Year of Biased Reporting: Why the New York Times Won.
(Image of Hass via YouTube/UCTV, Arouri via Vimeo/Arouri)