A top European Union official warned on Wednesday that both Israel and the Palestinian Authority (PA) would have a "price to pay" if US-led peace talks collapse, according to AFP.
Speaking to reporters in Jerusalem, Lars Faaborg-Andersen, the EU's ambassador to Israel, also rebuffed the evidence noted by both Foreign Minister Avigdor Liberman and Prime Minister Binyamin Netanyahu that Europe was showing an anti-Israel bias.
He also threatened that initiatives for Israel to keep building on land over 1949 Armistice lines was fueling more initiatives from the EU to boycott Israel.
"It is obvious, and we have made it clear to the parties, that there will be a price to pay if these negotiations falter," he said.
US Secretary of State John Kerry coaxed the two sides back to the negotiating table in July with the aim of securing an agreement within nine months. But the talks have shown very little visible progress, overshadowed by disagreements on security and the PA's incitement to violence against Israel and the Jewish people.
Since January 1, Israel has pushed ahead with plans for another 2,791 new Jewish homes in Judea and Samaria, sparking more condemnation against the Jewish state and accusations that it was torpedoing talks.
"If Israel were to go down the road of continued settlement expansion and were there not to be any result of the current talks, I'm afraid that what will transpire is a situation in which Israel will find itself increasingly isolated," the EU envoy warned.
"Not necessarily because of any decisions taken at a governmental level but because of decisions taken by a myriad of private, economic actors, be it companies, pension funds or consumers, who will be choosing other products on the supermarket shelves."
Faaborg-Andersen said moves within Europe to require separate labeling for goods manufactured over the 1949 Armistice lines were gathering pace every time Israel announced a new round of construction.
"I think it is gaining momentum every time there is a settlement announcement here, and that's one of the reasons why these are very counterproductive, both for the negotiations but also because they don't play in a good way with the public and also the political class in Europe," he opined. So far, such initiatives are in place in Britain and Denmark, and Sweden, Finland and the Benelux countries are looking into it, he said.
Last week, four key European states summoned Israeli ambassadors to protest over the construction, which Netanyahu denounced as "hypocritical," calling out the EU over its obvious anti-Israel bias. In response, the Israeli Foreign Ministry summoned European diplomats to explain their countries' one-sided criticism of Israel.
Earlier this month, Israeli government sources revealed that, far from being a string of independent non-coordinated initiatives as Faaborg-Anderson suggests, the recent threats of boycotts against Israel were actually initiated as part of a coordinated strategy to pressure the Jewish state by non other than John Kerry himself.
But Faaborg-Andersen said he felt the EU was being "even-handed".
"We are passing on messages to both parties, so I don't see any basis for the allegation that we are being one-sided, of not being even-handed on this issue," he said. "Given this very delicate stage and the high stakes, we are very critical of any developments on the ground that could threaten this very fragile process, and that cuts across the board," he said, citing EU criticism of Hamas rocket fire from Gaza and their incitement.
Asked what kind of price the PA could be expected to pay if the talks failed, he said: "It has been made very clear to the Palestinians that the option of just sitting around waiting isn't really an option."
Although he did not comment directly on press reports suggesting the EU could cut aid to the Palestinian Authority, he noted the "very substantial hole" in the Palestinian budget due to a drop in funding from the Arab states and said the prospect of the EU picking up the tab "might not be very realistic."
"We would like to continue on the basis of what we're doing, but we would like to see a political perspective," said his colleague John Gatt-Rutter, the EU representative to both the PA and Gaza, noting the economic situation in Europe and competing demands for funds, particularly from Syria and Egypt
Faaborg-Andersen's flippancy comes just hours after Deputy Defense Minister Ze'ev Elkin met with the EU ambassador, showing him more evidence of the PA's incitement to violence against Israel and expressing frustrations over the EU's insistence on curbing construction. It is crucial to note that a building freeze was never named as a precondition to the current round of talks.
"At the same time that they're criticizing us on every building announced, there's no declared criticism on the (rocket) firing from Gaza and the barrage in the region," said Elkin, referring to the outburst of at least 6 rockets last Wednesday that has security officials saying that for all intents and purposes the Gaza ceasefire is dead.
"The source of the conflict does not lie in the settlements of Judea and Samaria," emphasized Elkin. "After all, the conflict started well before 1967. The conflict started because the Arabs didn't agree to accept the fact that the Jews have the right to a country in any borders."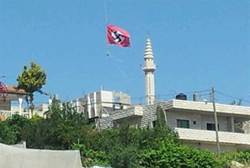 Elkin gave Andersen a document detailing the Palestinian Authority's (PA) institutionalized incitement dehumanizing Jews and idolizing Nazi leader Adolf Hitler. The documents also showed how the PA funds terrorists in Israeli prisons and awards them massive stipends..
In an even more blatant double-standard, the document also notes how the EU voted in favor of allowing its members to fish in the waters of occupied Western Sahara. That police stands in sharp contrast to the recently-issued European Union "guidelines" which boycott Jewish businesses in Judea, Samaria, the Golan Heights and parts of Jerusalem, on the grounds that the EU considers those areas to be "occupied territories".
Source material can be found at this site.