Bill Dallas, whose last two subprime lenders went bust during the global credit crunch, pledges to get it right this time around.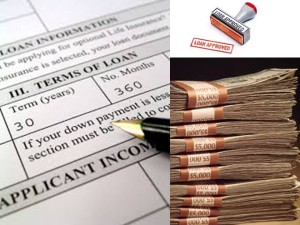 Dallas, 58, plans to offer the loans through his new company, NewLeaf Lending in Calabasas, California, this year. He's one of a growing number of executives striving to resuscitate the market, which six years ago crippled the global economy, with a revamped subprime product.
Gone are the days when lenders handed out mortgages without requiring documentation and down payments. Today's purveyors of subprime call the loans 'nonprime' and require as much as 30 percent down to safeguard their investment. And they see a big opportunity for growth as tougher federal lending standards shut out millions of Americans with poor credit from the mortgage market.
"You're going to have to make all types of loans, ones that conform to all the new standards and ones that don't, to keep powering the housing recovery," said Dallas, chief executive officer of Skyline Financial Corp. in Calabasas, California. "There needs to be a solution for people who don't fit in the box, and rebuilding nonprime lending is it."
The current level of subprime lending is a trickle compared with the flood that helped spur the housing boom. The loans are made to the riskiest borrowers, with low credit scores, high levels of debt and inconsistent income.
About $3 billion of subprime mortgages were made in the first nine months of 2013, matching the year-earlier period, according to Inside Mortgage Finance, a trade journal. In 2005, subprime originations reached $625 billion.
Investor Challenge
"We've done enough loans to prove to us that it's a product we're going to continue to grow," said Brian O'Shaughnessy, head of Athas Capital Group in Calabasas, which began making subprime loans nine months ago. "The biggest thing that has held us back is that a lot of brokers don't know the product is back."
Investors are taking a pass on subprime for now. Lenders have to either hold onto their loans or sell them to private equity firms until they establish a strong enough track record to offer mortgage-backed securities to investors. That leaves the Federal Housing Administration and Ginnie Mae, which packages FHA subprime loans into bonds, as the main sources of help to the riskiest borrowers.
"I don't think the face of subprime should be Ginnie Mae," said Dallas, who earned a degree from the Santa Clara University School of Law and has three decades of experience in the mortgage business. "The challenge is rebuilding an investor base. A lot of them are still deciding what risk they will take to get the higher yield."
Subprime Bust
During the loose lending era — driven by Wall Street's demand for subprime loans to securitize — firms invented and pushed a bevy of high-risk products. There was the so-called exploding ARM, a mortgage with an interest rate that could triple after two years. Bankers assumed the loan would be refinanced before the adjustment as long as home prices kept rising. Eventually, they didn't.
Bankers also peddled NINA products (No Income, No Assets), and liar loans — mortgages based on the applicant's unproven income. Most of these loans went to subprime borrowers — or those with credit scores below 660, according to the Federal Reserve definition.
As home prices began plunging, the wave of subprime defaults was severe enough to help topple Bears Stearns Cos. and Lehman Brothers Holdings Inc. in 2008. Skyline's Dallas experienced the destruction caused by run-away subprime lending up close.
Federal Rules
He had taken over subprime lender Ownit Mortgage Solutions Inc. and had founded First Franklin Financial Corp. After Dallas sold it, Franklin became the nation's fifth-largest subprime lender and Merrill Lynch & Co. bought the company for $1.3 billion in 2006. Both Ownit and Franklin were washed away along with more than 100 subprime lenders during the financial crisis.
Federal regulators banned many of these high-risk mortgages and lenders began demanding higher credit scores from borrowers. The average score for a mortgage approved by Fannie Mae in 2012 was 761 compared with 713 in 2000.
In January, the Consumer Financial Protection Bureau raised the lending bar even higher. The bureau's new Qualified Mortgage regulations provide a measure of legal protection to lenders who meet guidelines. And the rules expose them to legal liabilities if their loans fail certain tests, like charging high fees or requiring payments that, when combined with other debts, exceed 43 percent of the borrower's income.
30% Down
The stiffer rules have shut out a big chunk of borrowers with credit scores below 660 — about a third of Americans — from the mortgage market. New subprime lenders are pursuing these borrowers with mortgages that carve a middle ground: While the loans often don't meet CFPB's rules, they do require documentation of income and large down payments that discourage defaults and mitigate losses.
Athas Capital offers mortgages at an interest rate of 9.75 percent for borrowers with a credit score of 550 to 599 and who can put 30 percent down, O'Shaughnessy said. He said all borrowers have been on time with their payments so far.
"The word subprime in a lot of people's minds is dirty, but the product today is much different, much safer," said O'Shaughnessy. "You can have credit transgressions, but you're coming up with a big down payment and you have to back up what you say on the application."
Marilyn Monroe
The revival will help American families who want to go from being renters to owning their homes, William Erbey, CEO of mortgage servicer Ocwen Financial Corp., said last month at an investor conference. The share of homes purchased by first-time buyers fell to 28 percent in November, according to the National Association of Realtors. During the decade ending in 2012, the average monthly rate was 40 percent.
Erbey said Ocwen Financial will begin issuing subprime loans at a future date, without giving specifics on timing.
"Tighter underwriting standards have created a significant imbalance between supply and demand," said Erbey, whose firm is based in Atlanta. "I use the analogy — why didn't a million men date Marilyn Monroe? There was not a lack of demand. There was a lack of supply."
Irvine, California-based Citadel Servicing Corp., which began subprime lending seven months ago, gave Roberto Balcker a chance to own a home. Balcker, a real estate agent, wasn't able to qualify for a loan backed by Fannie Mae or Freddie Mac because his commission income fluctuates too much.
First-time Buyer
"We're giving people an opportunity to purchase property they wouldn't qualify for if their only option was the government," said Dan Perl, CEO of Citadel Servicing, which isn't related to Citadel LLC, a Chicago investment firm.
Citadel issued Balcker an 8.75 percent adjustable-rate loan to buy a $130,000 condo in Miami's Edgewater neighborhood last month. The rate, which is fixed for the first seven years, could go as high as 14.75 percent, according to Miami-Dade County records.
"If it wasn't for this type of lending, I would still be a renter," said Balcker, 38. "I make twice the income of clients of mine who found conventional financing, but I couldn't qualify for a mortgage."
Subprime isn't dangerous if the lending is done prudently, said Frank Pallotta, managing partner at Loan Value Group, a firm in Rumson, New Jersey, that advises mortgage investors on risk.
"It's a slippery slope if you start to get back to the products we saw in 2005 and 2006," Pallotta said. "Any skimping on documentation and any mortgages with big rate adjustments down the road are just defaults waiting to happen."
Slippery Slope
The bundling of subprime mortgages into securities to sell to investors won't be viable for a few years, said Sonny Weng, a mortgage analyst at Moody's Investor Services in New York. Investors won't buy subprime bonds unless the mortgages have low loan-to-value — a comparison of the mortgage balance to the worth of the home — and borrowers have proven their income, Weng said.
"Right now, investors don't have much appetite for subprime because they got burned during the crisis," Weng said. "Longer term, you may see further development of this type of product. Investors looking for higher yields may become interested."