An appeals court in Florence on Thursday upheld the guilty verdict against U.S. student Amanda Knox and her ex-boyfriend for the 2007 murder of her British roommate.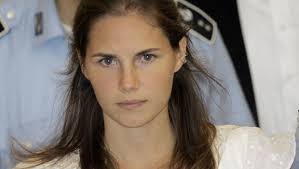 This is not double jeopardy because the case did not conclude with the appellate acquittal. The same rule would have applied here in the US.

Knox will be extradited to Italy if this decision is upheld," said Harvard law professor Alan Dershowitz. Dershowitz said there are no legal grounds for preventing extradition. Nor would it play well diplomatically, given that the United States demands more extraditions than any other nation, he said.
"The Italian legal system, though I don't love it, is a legitimate legal system and we have a treaty with Italy so I don't see how we would resist," he told AFP.
Knox's supporters argue she should be protected from extradition because the Italian system — which allows prosecutors to appeal a verdict — violates the US legal prohibition on double jeopardy: trying someone twice for the same crime.
Legal experts attach little weight to this argument.
 "They always forget she was convicted first," said Julian Ku, who teaches transnational law at Hofstra University.
Italy must first file an extradition request with the US State Department, which will then determine if it should ask the Justice Department to detain Knox.
Knox then has the right to challenge her extradition in a US court.
The chances of her winning that are not high because there has to be some very strong claim she'd have to make to block her extradition. It would be difficult to argue that the Italians didn't meet US standards of justice.
A US State Department official confirmed that there is an extradition treaty between the United States and Italy, but declined to comment on Thursday's verdict and trial.
It's unlikely that Italy would request Knox's extradition before the verdict is final. If the conviction is upheld on a final appeal, the extradition process would likely ensue.