In Vancouver, Canada, cigarette machines are banned, but crack pipe vending machines are okay.  Portland Hotel Society's Drug Users Resource Centre (DURC) is the nonprofit group backing these vending machines in Vancouver and its director Kailin See said, "For us, this was about increasing access to safer inhalation supplies in the Downtown Eastside."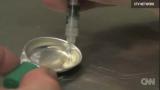 The Downtown Eastside is Canada's poorest neighborhood – but, for 25¢, you can get a shatterproof glass pipe, rubber mouth pieces, and filters to ensure you can use this highly-addictive drug safely (yes, I know how that sounds).

Proponents of this new crack pipe vending machine initiative say it's to make sure that the addicts are safe while using these highly destructive substances.

The vending machines are based off of a similar strategy dealing with a safe injection site enacted by InSite, which is "North America's only medically supervised safe injection site," according to CTV News.  InSite is funded by the same nonprofit group behind the crack pipe machines   and it's also located in the Downtown Eastside.  It provides users with a place to get high safely with designated areas to do drugs.

For ten years, Insite has provided the place, safety, and the needles for its patrons to shoot up, but not the narcotics themselves.

Looks like Rob Ford picked the wrong city to be mayor.